Standard Chartered Bank Global Head of Sustainability Mark Devadason will be the keynote speaker at the upcoming 'Best Corporate Citizen Sustainability Award 2015', which is organised by the Ceylon Chamber of Commerce, the country's premier business Chamber.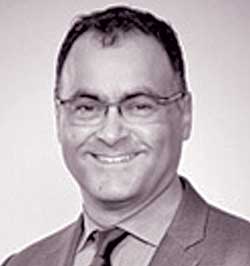 Hong Kong based Devadason will deliver his address under the title of 'The Increasing Importance of Environmental, Social and Governance (ESG) for Business leaders and the potential opportunities from Global goals for Sustainable development'.

Devadason is in charge of the Standard Chartered Bank Group's overall sustainability agenda, a core part of its strategy to build a sustainable business through contributing to economic growth, leading as a responsible company and investing in the future of communities.

Mark leads a team responsible for the bank's environmental and social risk management function and all the bank's environment, employee volunteering and community investment activities.

He is also a member of the Board of Standard Chartered Bank in Thailand and Chairman of the Fundraising Committee for the bank's charity, titled 'Seeing is Believing', which is committed to raising $ 100 million by 2020.

The Best Corporate Citizen Sustainability Award 2015, the country's top most recognition awarded for good sustainability practices is conducted for the 12th consecutive year. This year's awards giving ceremony will take place on 26 November at the Cinnamon Grand Hotel, Colombo, which will see the cream of Sri Lanka's corporate firms taking part.

The night will select the 'Winner of the Best Corporate Citizen Sustainability Award 2015', 'Top Ten Corporate Citizens'; awarding of Three Triple Bottom Line Awards covering People, Planet and Profit and also giving away nine category awards for the best performers in the areas of Environmental Management, Environmental Integration, Environmental Value Addition, Employee Relations, Customer Relations, Community Relations, Governance, Financial Performance and Economic Contribution.

10 Sector Awards will also be awarded for the best performers in the sectors of Agriculture, Construction, Finance, Healthcare, Infrastructure & Logistics, Knowledge Service, Leisure, Manufacturing, Diversified Holdings and others. The 'Grand Slam Award' will be given to any entity, who has won the award in five different years, to recognise continuous excellence over a long period of time. An award will also be given for the 'Best Presented Application'. If you wish to take part in this event, please call on 0115588805 or 0115588891 or email to manela@chamber.lk.