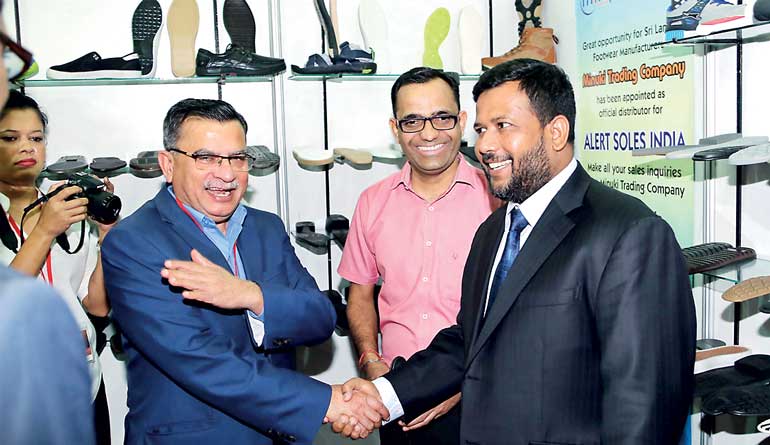 Industry and Commerce Minister Rishad Bathiudeen greets President of Indian Footwear Components Manufacturers Association (IFCOMA) Vipan Seth (left) at the 9th Footwear and Leather Fair 2017 at BMICH, Colombo on 3 February. see more pix on P5
Sri Lanka's first footwear and leather industry hub is coming up and it's the Eastern Province that will be hosting it. Meanwhile, Sri Lankan footwear and leather exports too have jumped by a strong 28%.

"We are planning to set up Sri Lanka's first footwear and leather industrial city in the Eastern Province," announced the Minister of Industry and Commerce Rishad Bathiudeen on 3 February in Colombo.

Minister Bathiudeen was addressing the inaugural event of the National Footwear and Leather Exhibition – Footwear and Leather Fair 2017 – at BMICH, Colombo. The ninth Exhibition in this series is organised by the Ministry of Industry and Commerce in collaboration with the Industrial Development Board, Sri Lanka Footwear and Leather Products Manufactures Association, and the Export Development Board. It is scheduled to be closed on 5 February. In addition to Sri Lankan manufacturers, 34 Indian firms representing India's Confederation of Indian Footwear Industry, Council for Leather Exports and Indian Footwear Components Manufacturers Association are also joining the event. India is the world's second largest leather shoe manufacturer.

"We welcome the strong Indian delegation to the ninth fair in this series. Our footwear and leather exports in 2016 increased by 28% in comparison to 2015 and revenues increased to $ 140 million, showing strong growth trends. What we need to understand in this is that 84% of these exports were in footwear. The global footwear and leather market is expected to exceed $ 600 billion by 2020. The global footwear market is estimated to be around $ 370 billion by 2020. The leather goods industry is estimated to reach $ 247 billion by that time. In a background of rising middle class consumption and demand for luxury goods across the world, I believe that footwear has great promise for the branding of Sri Lanka in international markets through a low cost export product. As the middle income population increases, it is clear that the demand for designer footwear too would rise rapidly. Even though casual footwear is leading the growth at present with more and more people entering an active sports lifestyle, demand for athletic and sports footwear too is driving this growth. As I explained at last year's exhibition opening, athletic footwear manufacturing is attractive due to the higher profit margins that it offers. Since levels and finish of raw material for athletic footwear is lower than fashion shoes their manufacturing costs are lower offering bigger margins in the market. In fact, industry analysts say that sports footwear can give as much as 45% profit margins – the highest in the footwear industry," said Minister Bathiudeen

He added: "Therefore, I call Sri Lankan manufacturers and exporters again to pay closer attention to this sector and enter it by supplying more to established brands. Realising the importance of the footwear industry in addition to supporting this exhibition series, my ministry has also initiated several projects to develop this sector. We are progressing well on the establishment of a footwear and leather goods training school at the Sri Lanka Institute of Textile and Apparel, Ratmalana. We have invested more than Rs. 19 million for this project now. I also obtained Cabinet approval for setting up a dedicated leather and leather goods manufacturing complex in the Batticaloa District at an estimated cost of Rs. 450 million. More importantly we are planning to setup a footwear and leather industry city in the Eastern Province with a Public Private Partnership. Realising that it is important to protect local manufacturers of this sector, we have increased the taxes on footwear imports and introduced duty exemption facilities for import of finished leather for manufacturing of footwear and leather goods products. I urge the footwear and leather sector of Sri Lanka to make use of these benefits and grow from strength to strength in their efforts."

A key objective of the foreign participant facilitation to this series by the Ministry of Industry and Commerce is tech transfer. Chennai based GTFC, a footwear materials and components supplier, is joining the Colombo fair for the first time and showed high enthusiasm. "GTFC and Rhenoflex – Germany are here for the first time and I am excited. I represent Germany's Rhenoflex, the world leader in Thermoplastic materials for toe, side and counterpart reinforcements in shoes. Today we are introducing modern, green manufacturing based, recyclable shoe components to Sri Lanka through our partner India's GTFC, for the first time through this fair," said Rhenoflex Germany's Vice Sales Director Rainer Godel. "We are exploring to partner with Lankan manufacturers in many ways" he added. Sri Lanka's Footwear and Leather Fair series was initially commenced by the Ministry of Industry and Commerce back in 2007 with a few stalls but today it has grown to become an international level exhibition, opening new doors of opportunities to the surging Lankan footwear and leather sector.