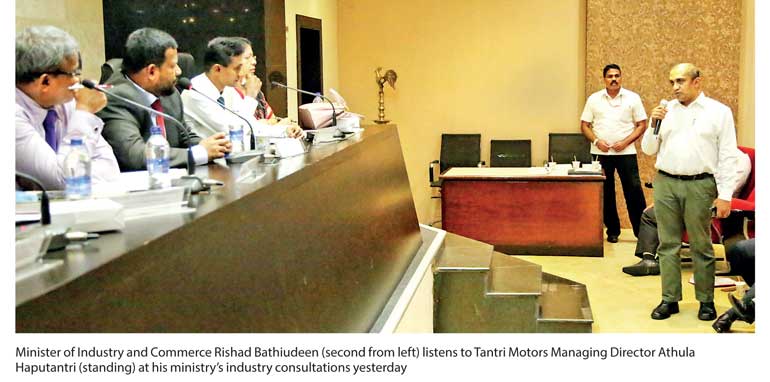 Bathiudeen rattled by sudden industrialist eruption at consultations
'What's going on?'- SL industrialists
Bathiudeen calls top officials for immediate pulse check on concerned sectors
'Give me the results in two weeks' - Bathiudeen
'We keep asking about status, but nothing forthcoming' - industrialists
Imports from China to SL in last five years jump by 67%
YoY imports from China up by 15% to $ 4.2 billion
Sri Lanka assured its industrialists that the forthcoming China FTA is designed to keep local industry concerns in mind.

Sri Lanka will also hold comprehensive informational sessions on the forthcoming China FTA after Lankan industrialists called for better transparency in the process yesterday in Colombo.

"We will not allow local industries and employment to be hit by any free trade agreements," said Minister of Industry and Commerce Rishad Bathiudeen at the ministry offices in Colombo. Minister Bathiudeen was addressing Lankan industrialists who gathered for a pre-consultation session for the forthcoming Budget conducted by the Ministry of Industry and Commerce. Joining Minister Bathiudeen were Secretary to the Ministry of Industry and Commerce Chinthana Lokuhetti and other top officials.

Industrialists from the footwear, electrical and electronic products, pharmaceuticals, cosmetics, rubber, wood, automotive components, boat building, processed food and packaging industries gathered at yesterday's session.

Representatives from the Ceylon Chamber of Commerce, Federation of Chambers of Commerce and Industry of Sri Lanka, Rubber Associations and Food Processors Associations also joined the session with Minister Bathiudeen.

According to the Department of Commerce of Sri Lanka, in the five-year period from 2012 to 2016, Chinese imports to Sri Lanka surged by a strong 67% (from 2012's $ 2.56 billion). Even on a year-on-year basis, Chinese imports in 2016 increased by 15% to $ 4.27 billion from 2015's $ 3.73 billion. Among leading imports from China to Sri Lanka in 2016 were mobile phones, light vessels and dredgers, semi-finished iron/non-alloy steel products, automatic data processing machines, fertilisers, projectors and net fabrics.

Several industrialists said that they were in the dark regarding the FTA work's progress with regard to sectoral coverage of each industry by the forthcoming FTA.

"The Sri Lanka-China FTA is cross cutting and many local industries could be affected if a proper study on the impact of domestic industries is not done before agreeing to the terms and conditions of the FTA. We came to know that the Government may bring down the negative list from the proposed 30% to a very low 10%. If that happens, many of our domestic industries may close," said Tantri Motors Managing Director Athula Haputantri.

"Also as many other industrialists gathered here experienced, we have been voicing our concerns at many forums but we do not have any responses, which is worrying. We believe the Industry Ministry and its Department of Commerce should be more involved in this and also should talk with Customs, the Finance Ministry and the Cabinet Committee on Economic Management (CECM) in this. We call on Minister Bathiudeen to mediate and help us by giving clarity on the progress. We the industry people too are keen for the FTA but are now worried. In addition to lowering the negative list, there also appears to be a decision to take off the cesses. Cess is the only protection that the local farmers and industrialists have against heavy import competition and if it's removed there can be a crisis for local industries. We also request the Government to have only one window, the BOI, for incoming FDI rather than multiple doors. We do not even know the new BOI industry investments and we know only after the BOI project starts that there is foreign competition for us. Foreign FDI is needed for the country but not at the cost of existing industries and employment here," he said.

Tantri Motors is a leading producer of tractor-trailers, tankers (including cement), construction plants and equipment, storage tanks, silos, overhead and gantry cranes and is also involved in the export of them.

Many other industrialists at yesterday's session readily agreed with Tantri Motors' Haputantri and voiced similar concerns related to their industry sectors as well. "We as Lankan industrialists want to know which Lankan industry sectors will be opened for the China FTA and what duty reductions will be given for imports," said Global Rubber Industries Executive Director Ananda Caldera.

In response, Minister Bathiudeen has assured them that his ministry, with the Cabinet Committee on Economic Management (CECM), will consult all relevant industries before inking the pact. Thanking the industrialists for bringing these issues to his attention, he also directed five of his top officials to commence a rapid assessment of all industries affected by the China FTA and report back to him within two weeks.

"I am immediately directing my officials to conduct a rapid industry assessment of all the industries that want some assurance on the China FTA. I want my officials to produce the assessment results in two weeks. We will also hold comprehensive informational sessions on the forthcoming China FTA for our industrialists so that they are prepared. I also want the industrialists to understand that though a single window entry is good for FDI projects, any industry project needs to register with our Industry Ministry along with BOI approvals. I shall also speak with the Department of Commerce regarding import cess and the China FTA and will immediately forward your concerns to Prime Minister Ranil Wickremesinghe's Cabinet Committee on Economic Management (CECM)."

Minister Bathiudeen also discussed other industry aspects and issues with Lankan industrialists at the meeting.

According to the Department of Commerce, in 2016 Sri Lanka's total bilateral trade with China was $ 4.4 billion, a huge 363% increase in comparison to a decade back in 2007 (at $ 965 million) and even an 11% annual YoY increase in 2016 from 2015's $ 4 billion.