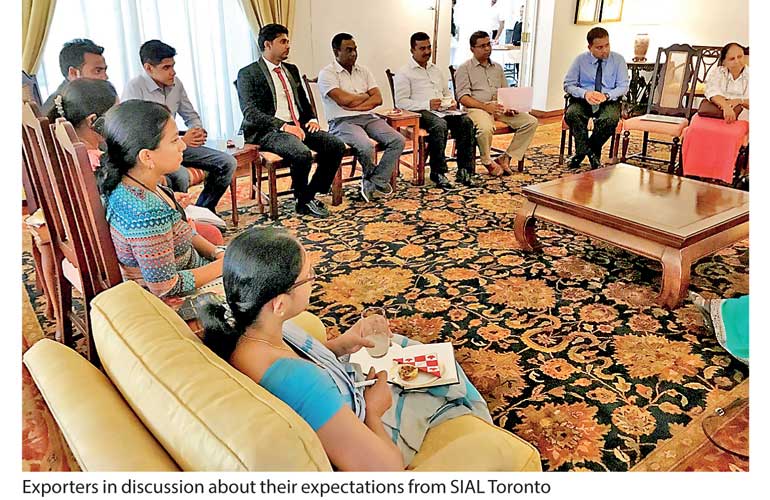 The High Commission of Canada to Sri Lanka yesterday announced the participation of 10 small and medium-sized exporters in the international food and beverage trade show, SIAL Canada 2017, to be held from 2-4 May in Toronto, Canada.

In addition to the trade show, these companies will also be participating in a business-to-business meeting with Canadian importers as well as undergoing market orientation of Canada.

The program is facilitated by the Trade Facilitation Office (TFO) of Canada, the Export Development Board of Sri Lanka (EDB) and the Sri Lankan Consulate General in Toronto. The TFO is a Canadian Non-Government Organisation founded by the Canadian Government in 1980. Their mandate is to improve lives through the creation of sustainable economic development through trade with Canada.

TFO Canada helps to enable trade for over 1,200 exporters from developing countries, over 1,200 trade support institutions and more than 1,600 Canadian importers. EDB has entered into an agreement with TFO as part of its export development activities and through this agreement TFO Canada will support Sri Lanka for a period of four years from 2015 to 2018.

Meeting with the exporter delegation yesterday at her official residence, High Commissioner Shelley Whiting stated: "We are pleased to see these trade and promotional activities take place in support of the growth of trade and economic cooperation between Sri Lanka and Canada. In Canada, we call SMEs engines of economic growth. Support to small and medium-sized enterprise creates jobs and supports economic and export diversification, which is critical to Sri Lanka's economy. Through the TFO, Canada is supporting these potential exporters looking to expand into the Canadian market. I wish you the best at SIAL and look forward to hearing about the opportunities you have explored upon your return."

The Trade Commissioner Service (TCS) is the Canadian Government's network of trade professionals. In Sri Lanka, TCS engages with the Sri Lankan Government and the private sector to promote Canadian goods and services, facilitate innovation and R&D as well as build networks between the two countries such as the TFO with EDB in Sri Lanka.