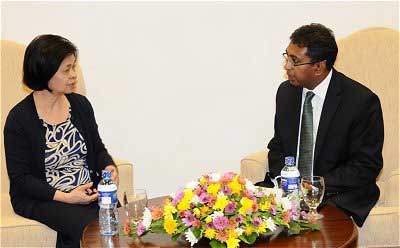 Sri Lanka and the Philippines have agreed to enhance collaboration between the two countries during the official visit of Undersecretary (Deputy Minister) for International and Economic Relations of the Department of Foreign Affairs of the Philippines Laura Q. Del Rosario to Sri Lanka earlier this week.

Del Rosario during her visit to Colombo from 14-15 February met with Deputy Minister of Foreign Affairs Dr. Harsha de Silva for bilateral discussions at the Foreign Ministry on Monday (15).

At the meeting, the visiting Undersecretary expressed Philippines' interest of enhancing the existing ties between Sri Lanka and the Philippines and looked forward to benefits of mutual cooperation, the Foreign Affairs Ministry said in a statement.

Deputy Minister de Silva proposed to enhance collaboration between the two countries in fields of the IT related services, hospitality sector and training of nurses.

The Undersecretary's visit to Sri Lanka took place just two weeks after the two countries signed the Memorandum of Understanding (MoU) on Political Consultations, which provides the forum for the Foreign Ministries of the two countries to have regular consultations on bilateral and international matters of interest. Accordingly, at the bilateral meeting, it was agreed to hold the first round of bilateral political consultations under this MoU in Colombo at a mutually agreed date later in the year.

The visiting Undersecretary also met with the Minister of Foreign Employment and the representatives of the Ceylon Chamber of Commerce and Sri Lanka Tourism on 15 February prior to her departure.

She also attended an Education and Tourism Roadshow organised by the Consulate of the Philippines in Sri Lanka during the visit.