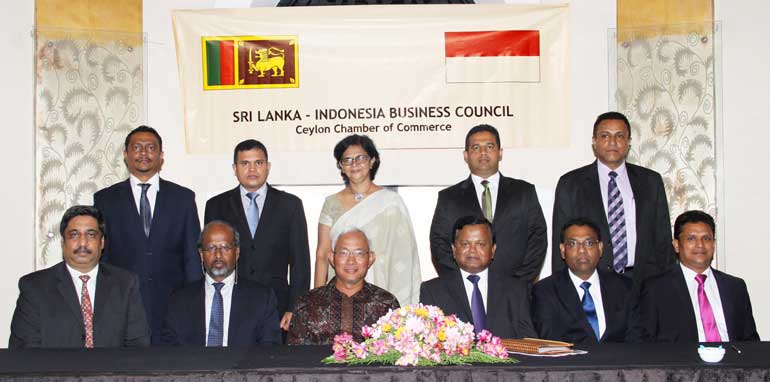 Sri Lanka-Indonesia Business Council (SLIBC) which functions under the aegis of the Ceylon Chamber of Commerce held its 22nd Annual General Meeting on 16 September, at Taj Samudra. SLIBC was established in 1991 with a view to promote trade, investment, tourism and services between the two countries.

Ambassador of the Republic of Indonesia in Sri Lanka and Patron of the Council Harimawan Suyitno graced the occasion as the Chief Guest. Addressing the members, he congratulated the newly elected committee and emphasised that liaising with Indonesia, one of the fastest growing economies in the world, Sri Lanka could benefit through many avenues.

Former Sri Lankan Ambassador to Indonesia Anoja Wijeyesekera, who was the Guest Speaker for the evening, made a presentation titled 'Trade with Indonesia: some insights and suggestions for improvement'. She made an insightful analysis of Sri Lanka's declining export performance and the issues facing the Sri Lankan exporters and made several suggestions to overcome these problems. She also suggested some recommendations for the Government of Sri Lanka, the BOI and the Chamber of Commerce. Her message was clear. We need to more to help our exporters to tap into the huge Indonesian market, particularly its large Middle Class Affluent Consumers (MACS).

Ceyline Holdings Ltd. Managing Director Jayantha Rathnayake was elected as the President of SLIBC for the Year 2015-2016. In his address, Rathnayake thanked the outgoing President Jatinder Biala. The President also mentioned that SLIBC will take the required efforts to strengthen the trade relationship between Sri Lanka and Indonesia.

The two Vice Presidents are Kalinga Wijesekara of Serendib Flour Mills Ltd. and Moiz Mohamedally of Avalon Enterprises Ltd.

The following were elected to the Committee for the Year 2015-2016:

Civaro Lanka Ltd.

Douglas & Sons Ltd.

Daya Constructions Ltd.

Geocyc Ltd.

Past Presidents:

Jatinder Biala

Anton Godfrey

T. Someswaran

Hussain S. Hashim

Nihal Gooneratne

Cherryl Rodrigo represented the Ceylon Chamber of Commerce.

Outgoing President Jatinder Biala briefed the activities done during the financial year under review and thanked the Committee for their unstinted support.