Annualised data from 2010
Some numbers going back to 2005
Entire profile of Lankan export markets and the basket revealed
Free access to public and exporters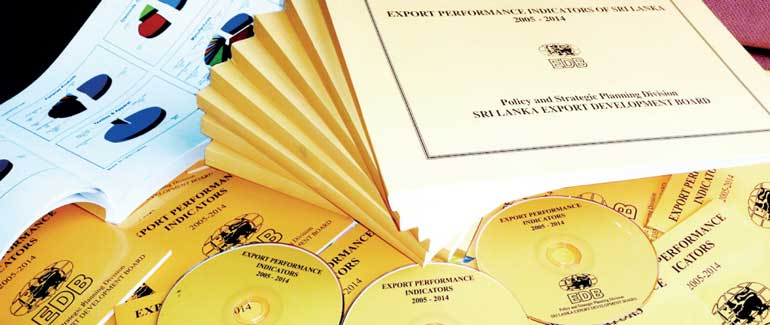 The free-of-charge database is now immediately accessible on http://stat.srilankabusiness.com/epi2015/
Sri Lanka's apex export facilitator, the EDB has released data showing values of the national exports profile for the first time on 15 July. The data has been released via the EDB's online portal, srilankabusiness.com. The data portal's direct address is http://stat.srilankabusiness.com/epi2015/

Provided free of charge, the datasets range from general breakdowns to in-depth levels. The indicators and numbers on export performance of the country's export basket of no less than 146 product lines have are made available to the members of public through EDB's statistics portal.

The data on global markets show that Lankan exports are headed to no less than 87 countries. The portal then breaks down the top 40 products imported by each such country from Sri Lanka in 2010 to 2014. Compiled by the Policy and Planning Division of EDB, some stats start from 2005 while two sets of data – including performance of Lankan merchandise exports – stretch as far back as 1980!

The numbers incorporate projections of current trends for global demand for Sri Lankan products as well as five years of annual export numbers of the 146 exports basket from 2010 to 2014.

Export details to 19 regional economies and trade groupings (EU, African Countries, G-15, Latin America and the Caribbean, Middle East, CIS, COMESA, BIMSTEC, Andean, APTA, ASEAN, ATPF, BRICS, CEFTA, Central & Eastern Europe, EFTA, MERCOSUR, NAFTA, and OCEANIA) are also revealed.

Among the more detailed topics with comprehensive breakdowns are major export product sectors, disaggregated export performance since 2005, comparison of share of major product sectors in total exports, performance of sub sectors within major sectors, number of exporters by export turnover, product sectors, direction of exports since 2010, destination concentrations of Sri Lanka's exports, how Sri Lankan exports compare with world imports, current trend in global demand for Sri Lanka's products, and exports of Lankan high technology products.

The portal also features a few several graphs and charts such as comparison of share of Exports – 1980 and 2014, composition of sub sectors in major export product sectors – 2014, exports to BRICS and some other potential markets, and movement of exchange rates.