Dhaka: Sri Lankan High Commissioner in Bangladesh Yasoja Gunasekera last week said that Bangladesh and Sri Lanka, strategically located along the Bay of Bengal, can work jointly to enhance economic cooperation and utilise the resources to promote tourism and trade.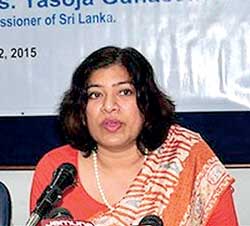 Addressing Diplomatic Correspondent Association of Bangladesh (DCAB) Talk at the Dhaka Reporters' Unity recently, the Sri Lankan envoy said the two countries having close partnerships with India and China, can explore huge trade potential in the region for mutual benefit beyond the traditional economic thinking.

"We'll have a particular interest in working in partnership with friends like Bangladesh in Asia and our immediate neighbourhood, the Bay of Bengal, to mutually beneficial economic cooperation," she said.

"We are committed to the objectives of SAARC, BIMSTEC and IORA, the relationship between our two countries can be characterised as robust and warm, based on mutual respect and sincere friendship. As our outlook is similar in many ways and even in views on a range of issues in regional and international fora we can identify several areas of focused cooperation including air and sea connectivity, trade, investment, tourism, agriculture, education, culture and other common areas for our mutual benefit," she said.

The envoy highlighted that the Sri Lankan government is working towards both national reconciliation and economic development, invited top Bangladeshi companies for 'joint ventures' to tap 'unlimited' trade potentials.

She pointed out that the bilateral trade between the two countries was around $ 150 million and said it was 'way below the potential'. She said both countries were studying the feasibility of a free-trade agreement for mutual benefit.

"We have close partnership with the two major economies of Indian Ocean. So trade potential is unlimited," she said, citing her country's close ties with both India and China.

"Relevant authorities of both the countries are currently in the process of studying the feasibility of such a framework that would be mutually beneficial," Ambassador Gunasekara added.