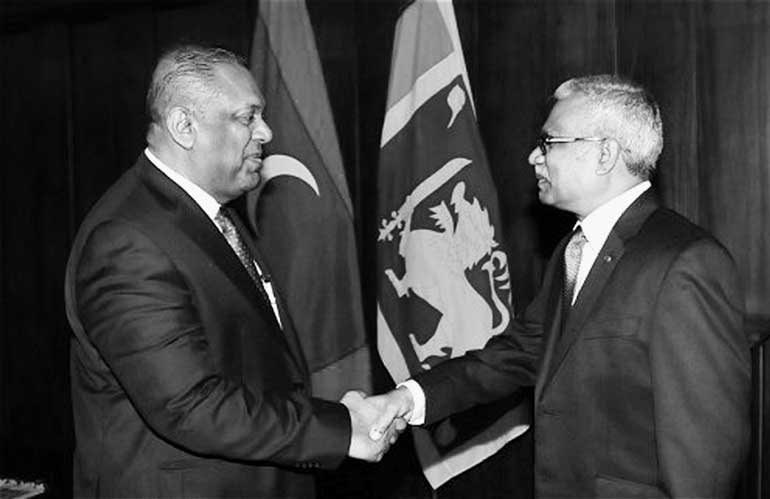 Foreign Affairs Minister Mangala Samaraweera greets his Maldivian counterpart Dr. Mohamed Asim in Colombo before they sat down to discuss measures to strengthen bilateral ties
Sri Lanka and the Maldives yesterday renewed commitment to further strengthen bilateral relations.

Minister of Foreign Affairs Mangala Samaraweera held discussions with his Maldivian counterpart Dr. Mohamed Asim on Friday at the Ministry of Foreign Affairs, where the two discussed ways and means of strengthening bilateral relations, including economic and trade links. Discussions were also held on enhancing cooperation in areas of education, health, investment and security.

The Foreign Ministers agreed to hold the next Joint Commission meeting between the two countries early next year. The last meeting of the Maldives-Sri Lanka Joint Commission was held in Colombo on 10 September 2014.

The Foreign Minister of Maldives was accompanied by Ambassador Zahiya Zareer, Deputy Ambassador Abbas Adil Riza and Assistant Director of the Ministry of Foreign Affairs of Maldives Samahath Zuhuree.

Foreign Minister Asim had served as High Commissioner to Sri Lanka from 2004 to 2007.