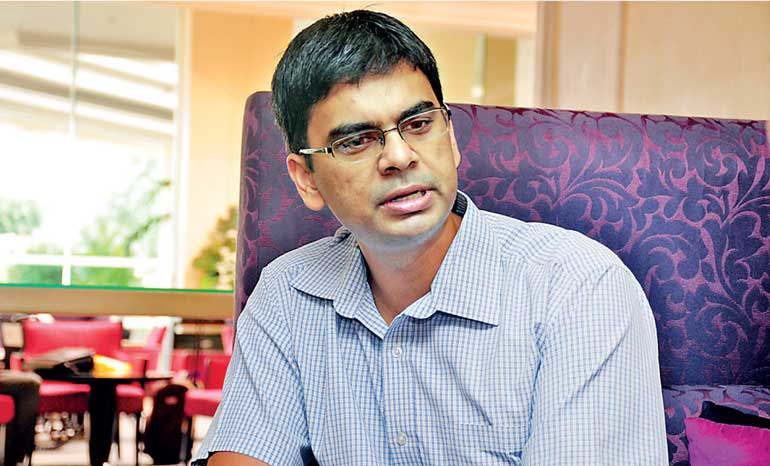 The Regional Head of Viber South Asia Anubhav Nayyar – Pic by Lasantha Kumara
Anubhav Nayyar, the Regional Head of Viber South Asia discussed with us, its recent sticker launches and business tie-ups in Sri Lanka. Nayyar heads the operations for South Asia and is responsible for the business strategy, P&L, marketing and overall brand development.

Viber, a part of Viber Media is a pioneering mobile messaging and VoIP company with over 771 million users across 193 countries. Viber needs no introduction, as it's an extremely popular name in Sri Lanka and we're among its top five markets for Viber Sticker usage.

Following are excerpts from the interview:
By Kiyoshi J. Berman

Q: How large is the Viber user base in Sri Lanka?

A: We have just crossed the five million user base in Sri Lanka; we have been growing fairly aggressively over the last 18 months. We have 5.3 million users in Sri Lanka as of today. From a global perspective, Sri Lanka is a big market. If you look at the country's population of about 20 million, proportionately the usage is very high. So we're here for the long run.


Q: Why do you think Viber Stickers are gaining so much popularity?

A: We have seen that people of a certain age from 14 years going up to about 35, or maybe even 40, use stickers very extensively in Sri Lanka. If I was to guess, it tells a bit about the country itself. Stickers are generally used by people who are very expressive, people who go beyond simple text messaging and are also creative in the way they use their communication. We have seen that popularity for stickers is so high that currently Sri Lanka is among the top 5 markets for sticker usage and so tells us a lot about people in Sri Lanka.


Q: Does the culture of the country determine the popularity of stickers?

A: Stickers are far more popular in Sri Lanka than in a lot of countries out there. It's not just to do with the culture of the country. It's also the fact that we have initiated localised stickers in Sri Lankan languages – using a combination for all those languages. The moment you start localising to a particular country you always see better traction.

Now there are stickers in Sinhalese. Three packs in the current list are in Sinhalese, some in Tamil and we will be introducing more in future.


Q: What are the other countries where Viber stickers are popular?

A: Stickers are generally popular in many countries. However, we do very well in Russia, the Philippines and tend to do well in Eastern European countries like Bulgaria, Serbia and Greece.

Generally, our pockets are in South Asia that is Sri Lanka and India, South East Asia like the Philippines and Russia, up North and Eastern Europe.


Q: What are the main revenue streams of Viber?

A: Currently, there are three streams where we generate revenue. From a consumer point of view there are two areas. One is through stickers itself. There are some stickers that come at a premium price. These are the licensed tickets which we partner with Disney and Marvel Comics that offer a pack of 35-40 stickers for approximately $ 1-$ 2 but it varies with exchange rates and so on.

The second stream is called 'Viber Out' which means you can use Viber to call any number, say a landline or mobile which doesn't have internet at a very subsidised rate. But calls from Viber to Viber are absolutely free.

These are the two main revenue streams but we also have Business-to-Business partnerships where we partner with companies and look at ways we can make revenue.


Q: Do you think Viber is more popular in Sri Lanka than other messaging apps like WhatsApp?

A: I think it is. We obviously look at our own numbers first and see what's doing well. However, I think that third-party ranking measures are always better than internal numbers.

There is an online portal called 'www.appannie.com' I would say that it's a real-time worldwide app revenue ranking and rating system of all countries. This tells you what the top apps are on a given day at a given hour. Obviously sometimes there is a bit of an up and down but if you look at the last 52 weeks in general, Viber has always been number one in Sri Lanka.

Sri Lanka is a fairly Android-centric market and among Android devices, we normally tend to be number one.


Q: What is unique about Viber?

A: Considering the category of the app and internet speeds required, there will be lot of commonalities across, whether you mention Viber, WhatsApp or other players out there.

Cold messaging and cold calling has become popular and users wish to keep it clean. We have recently introduced public chats and something called public accounts. That's an opportunity for celebrities as well as brands and businesses to use Viber to engage with people in their own communities such as customers or fans. This is a feature that doesn't exist in any instant messaging platform available today. Those are our two main differentiating features and we will obviously look at more ways to improve.


Q: How secure is Viber?

A: Viber as a messaging platform is definitely very secure. In a few countries we have rolled-out end-to-end encryption which basically means that Viber does not have any access to the instant messages that are exchanged between users. User privacy is of utmost importance to us, so we never actually have access to the data. Our idea is to provide a platform for people to connect without worrying about being monitored.

End-to-end encryption is not being rolled-out in Sri Lanka as yet but it will eventually be introduced here. Generally speaking, not only Viber but the whole industry is moving towards providing better privacy and security for user conversations.


Q: Can you comment on the Viber Sticker partnerships in Sri Lanka and other business tie-ups?

A: Stickers are an interesting way for brands to engage with end users. We just started doing that with our partnerships. Around two months ago, we went live with Nestlé, Nestomalt. The brand was looking at unique ways of engaging with the consumers and we launched their stickers. The results have been tremendous and have been able to deliver great numbers for Nestlé itself. It was a good brand to tie up with because it's a brand for health, goodness especially for children. The way it works is that Nestlé created the stickers along with us and we publish them on our client forms. These stickers are free for download and use. People have obviously liked the fact we have mentioned in Sinhalese and Tamil on the stickers so it's got a much localised touch. Basically once people download the stickers it will rest in their mobile forever – until of course they remove Viber or change their phone. Stickers have been a great way for companies and brands to tie-up with us.

In fact, I would say that Viber Stickers can increase the sales of a product. We have tied up with so many companies around the world – Coca Cola in Russia and we will be tying up with Mac Donald's. We see Stickers as more of an awareness driver. For instance, the more people use Nestlé stickers, the more it will retain in their minds. Besides, there are other ways where stickers can be directly linked to sales as well.


Q: What are the future plans of Viber for Sri Lanka?

A: We definitely want to see into increasing our user-base in Sri Lanka. We are looking into many tie-ups and marketing initiatives based out of Colombo. Thus far, we have seen great results; people who try Viber, tend to stick with us.

The other area we focus on is localising content and creating partnerships with companies over here and we're aggressively going after it.

Lastly, we do business-to-business; we are looking at numerous partnerships whether with FMCGs, banks and possibly even Telcos to generally improve the experience.