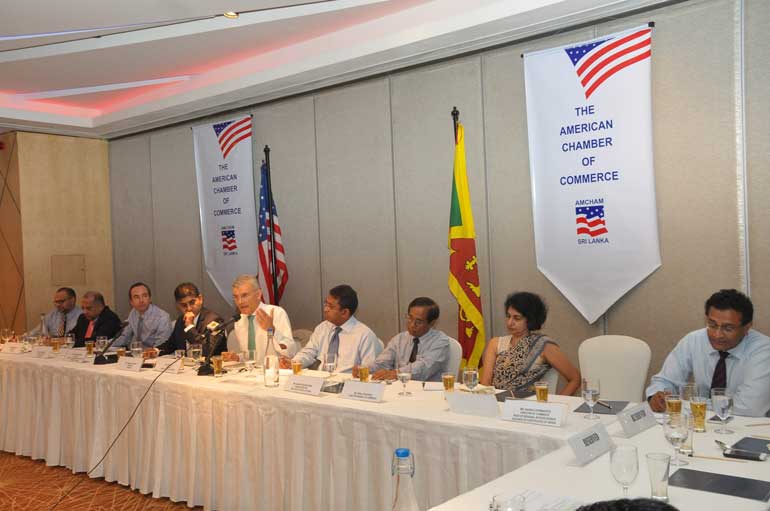 From left: IPS Head of International Economic Policy Research, Dr Janaka Wijayasiri, Amcham Secretary Nimal Cooke, US Embassy Economic Officer William Humnicky, Amcham President Asanka Ratnayake, IPS Chairman Dr Razeen Sally, Policy Planning, Economic Affairs, Child Youth and Cultural Affairs Deputy Minister Harsha De Silva, IPS Board Director Sarath Rajapatirana, Director General of Commerce Sonali Wijeratne, Issuance of Certificates of Origin Regional Affairs Division Head Ananda Dharmpriya - Pic by Shehan Gunasekara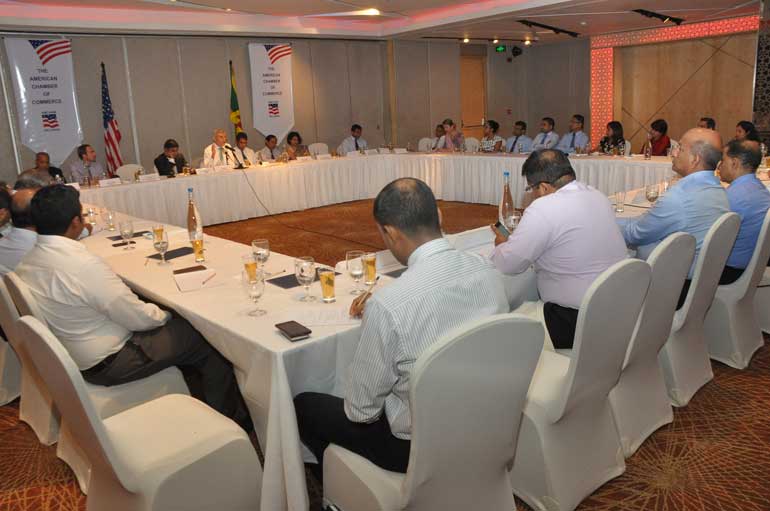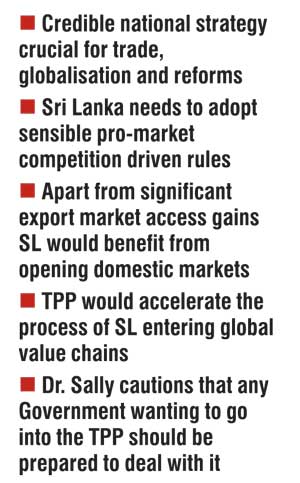 By Charumini de Silva

Institute of the Policy Studies (IPS) Chairman Dr. Razeen Sally recently said that Sri Lanka is certainly not in a position to join the Trans-Pacific Partnership (TPP) at the moment or when it is ratified, pointing out that there were significant reforms that needed to take place within the country.

"The real prize of Sri Lanka would be to get reforms taking place at home, rather than having them being forced on by the Americans or any other country," he said sharing an overall assessment on the TPP in his personal capacity.

Noting that in any event Sri Lanka would have to join what looks like being a long queue and that there would be preliminary steps to be in a position to join the TPP, he said it was crucial to concentrate minds on credible national strategy for trade and globalisation within unilateral reforms on the tariffs, non-tariff barriers, services, investments and Government procumbent.

Dr. Sally made these remarks at a luncheon discussion on the theme of 'The Importance of TPP to Sri Lanka' organised by the American Chamber of Commerce yesterday.

Outlining that Sri Lanka first needs to carry out a serious analysis of the TPP and its potential cost and benefits for the country, he added that what's more important is Sri Lanka adopting a much more sensible, pro-market competition driven rules, which the TPP would bring to open up the domestic economy and make it more competitive.

"There are potentially significant export market access gains for Sri Lanka particularly in garments but also in other areas. Some of the key gains I think would come from actually opening the domestic market in investment and services," he explained.

Pointing out that South Asia is largely out of the global value chain, Dr.Sally said that subscribing to the provisions in the TPP would help accelerate the process of Sri Lanka entering into the global value chains especially from services than from manufacturing.

Despite possible short-term costs involved regarding intellectual property, he said they would probably not be as high as many people think they will be.

Given the declaration of public service and the political situation he asserted that implementation would be crucial and challenging. "This would involve significant new legislation, implementation and delivery. It would involve political costs for the Prime Minister and the Government because it will inevitably be much bigger than with any other measures to do with international trade," he said.

Thereby Dr. Sally cautioned that any Government wanting to go into the TPP should be prepared to deal with it.

He said that the TPP so far was not being seriously discussed in the South Asian region; Sri Lanka is the first country to even mention TPP with the Prime Minister's Economic Policy statement and interest in the TPP.

Nevertheless, when lodging an application to join the TPP being the first country in South Asia might be a good branding exercise and a selling point, he added.

"If Sri Lanka would be the first South Asian country to join the TPP, we would have the extra satisfaction of kissing off the Indians."

Revealing that IPS preparing a comprehensive analysis on the need for Sri Lanka to join the TPP, he said that they hope Chambers and other key institutes would interact with IPS.