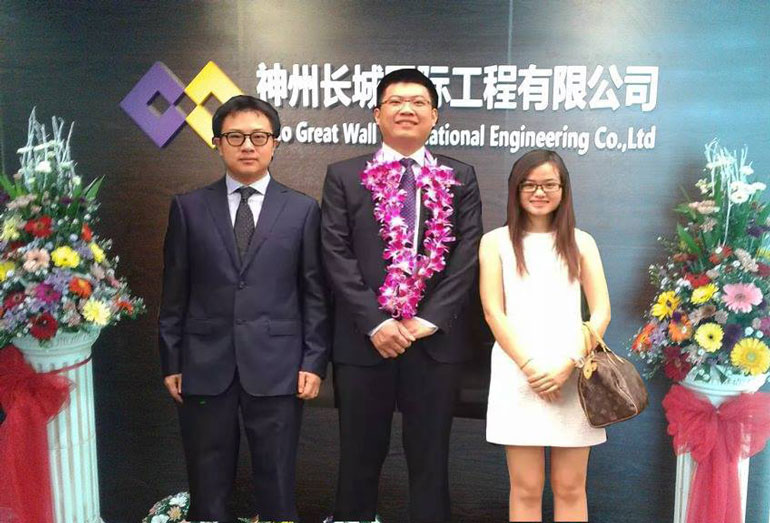 Sino Great Wall International Engineering Co. Ltd. China established their Sri Lanka branch office on 10 January at No. 445A 1/5, A.T. Cooray Building, Galle Road, Colombo 3 with the participation of their Director Han Ru Xue from the Head Office in China as the Chief Guest.

In an interview with Xinhua news agency Hang Ru Xue briefed on their current progress in Sri Lanka as well as in other countries.

According to him the year 2015 has seen the strategic layout in Sri Lanka for Sino Great Wall International Engineering Co. Ltd.

During the year 2015, the RIU Resort Hotel Project at Ahungalla cooperated with China Harbour Engineering Cooperation is on a smooth progress, which is expected completion at the end of March 2016. Further they have already formed a comprehensive cooperation with some other central enterprises in Sri Lanka. They have entered into some projects with AVIC INTL and CICT and these are progressing well.

Through strategic layout, the work in 2015 for Sino Great Wall can be summarised as very successful.

Further they have gradually formed an independent bidding system, well-established procurement system and employee training system.

At the moment they are capable of handling 10 billion dollars cooperation and construction management of five to eight big EPC Contract Projects.

He also mentioned that he is confident that Sino Great Wall will vigorously develop in 2016 based on performance during 2015.

Sino Great Wall International Engineering Co has strong competitive advantages in market segments such as decoration engineering, M&E installation and building curtains wall systems. The company is ranked 8th among 'China Building Decoration Industry Top 100 Enterprises' in terms of comprehensive strength.

SGW has been adhering to the core value of 'Credit, Dedication, Perfection and Honour'. With outstanding achievements, the company is highly recognised. So far, their representative overseas projects completed or under construction are as follows: Ministries Complex Buildings for the Ministry of Finance in Kuwait, Ali Al-Sabah Military Academy for the Ministry of Defence in Kuwait, Djamaâ El Djazaïr (Great Mosque of Algiers) in Algeria, RIU Resort Hotel at Ahungalla Sri Lanka, Naga Project (including TSCLK Integrated Complex, NEC Building and Naga City Walk) in Cambodia, The Bridge Cambodia and Vattanac Capital in Cambodia.

In the belief of 'Win Market with Quality', the company has won good reputation among their employers by virtue of high-quality products and perfect service. So far, the company has kept stable and close ties with more than 70 listed companies in China, which lay solid foundation for a steady growth.