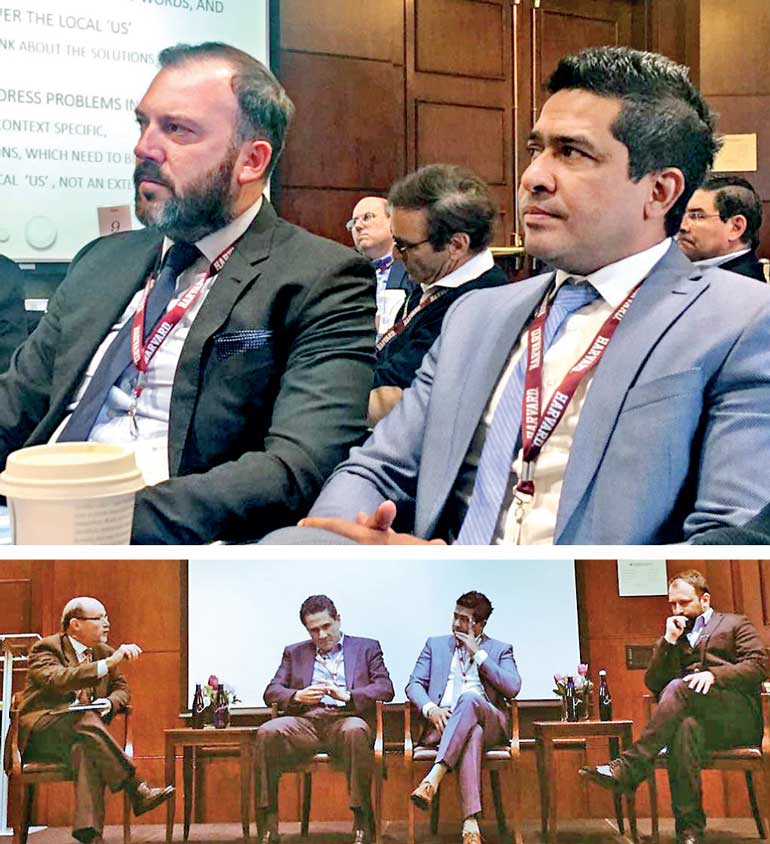 State Minister for Development Strategies and International Trade Sujeewa Senasinghe addressed the highly-prestigious 'GEM 2017 Forum' at Harvard University's Kennedy School on 18-19 April.The State Minister address was titled 'Sri Lanka's experience with economic development – tailoring solutions to local problems'.

The Minister began by asking the audience if they knew where Sri Lanka was located on the world map.In fact not very many of those present were fully aware of the country's situation hence Senasinghe used the opportunity to introduce in brief Sri Lanka's history and economy since Independence.

Sri Lanka in fact had been independent since 1948 and in 1977 adopted a liberalised economy.Whilst the country was among the first in Asia to open its economy, the rapid growth it enjoyed in the1970s was badly affected by 30 years of internal conflict.

One important reason for the conflict was the adoption of Sinhala as the sole language of the country, which resulted in the alienation of the Tamil community, culminating in insurgency and terrorism.This 30 year conflict in fact did considerable damage to Sri Lanka both in term of her economy and her international image and whilst the Government did many good things such as the development of large scale hydro power, the toll of the conflict was considerable.

Senasinghe said that nine leading political figures were assassinated in this period including President Premadasa.However, Sri Lanka was indeedable to defeat the terrorist group and one of the very few countries to do so in recent years.

Military experts now speak of theSri Lankan model of counter insurgency which is studied worldwide.Currently Sri Lanka is recovering and prospering with growth rates of 5.5% on average every year.

In addition the country benefits from a very central position in a region which is not just emerging as an economic powerhouse but also represent a demographic block of five billion people with whom Sri Lanka's small economy can effectively interact through trade and investment.

An important challenge faced by the Sri Lanka economy is its reliance on the apparel industry for exports.It is unfortunate however that this industry though very significant, has not grown as fast as for example that of Bangladesh.

The country therefore needs to look at new sectors which will be generating higher value exports.This is an area where Harvard University is in fact collaborating very closely with Sri Lanka.

Another important aspect of Sri Lanka is the strengthening of democratic institutions and economic liberalisation.Senasinghe stated that these two are invariably linked and Sri Lanka aims to strengthen business ranking and has set up nine commissions in various areas that will result in the strengthening of institutions and therefore democracy.

There is also a realisation on the part of the Government of Sri Lanka of the need to strengthen global supply chains in the future as the Sri Lankan economy is strongly tied to the global market.

In this connection the country's three leading ports at Hambantota, Trincomalee and Colombo will play a vital role, being deep water harbours.Sri Lanka does expect to be a major transhipmentcentre in the years to come.

The country also enjoys considerable goodwill on the part of many regional powers such as China who are engaged in the development of an industrial zone in the town of Hambantota while other countries are looking at new zone at Kalutara and Kurunegala in the Western part of the Island.

There is also aneed to appreciate the fact that many changes are taking place in the region with Chinese Government promoting the One Belt One Road strategy initiative to link China to Asia,the Middle East and Europe in a modern day silk road.

Sri Lanka is also looking at strengthening in the future trade agreements with China and with India which will help strengthen the Government's goal to create a trading hub in the country.To achieve that objective Sri Lanka will also need to upgrade considerably its infrastructure and in the future the country will be linked by a network of modern expressways which will considerably reduce time of travel within the Island.

This would be a major achievement given that within a relatively small territory the country has much diversity.It is said that there are four seasons within a comparatively small area.

In addition some areas have been earmarked to serve as urban clusters such as Colombo Megapolis, the Kandy Development Programme and others on those lines.

Another strength the country enjoys is a 95% literacy rate which is a factor conducive to greater volumes of investment and trade.

Senasinghe stated that one criticism could be laid at the Government is the fact it is sometime slow at making decisions and therefore not geared to address some contingencies.

This may be partly due to the fact that the country does have a coalition Government which slows down the decision making process.

Recently 40 people lost their lives due to the collapse of a garbage dump.There had been in fact requests to remove this dump, and 100 companies had offered their services to generate power from the waste but unfortunately no decision had been taken.

This is one of the big challenges that Sri Lanka does face and will need to address in the long term.

There is a necessity to embrace change rather than oppose it as much of South Asia isoften does oppose new ideas.

Senasinghe also spoke of the need to look at new economic opportunities such as that provided by a Thai company seeking to develop 2,000 acres of land into an industrial park in the town of Kalutara.

In addition legal reforms should also beimplemented to strengthen the business environment of the country, making it more conducive for foreigners to invest and to work in the Sri Lanka.

The Minister concluded by saying that the Government of Sri Lanka needs to be given a chance to bring about reforms of the society and create the opportunities needed by the people of Sri Lanka.

He thanked Harvard University for all its support and the good work it has done in Sri Lanka.