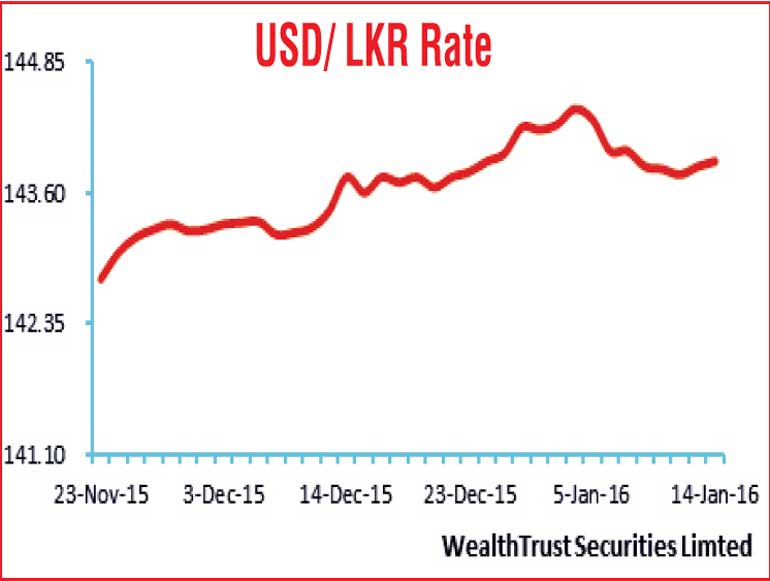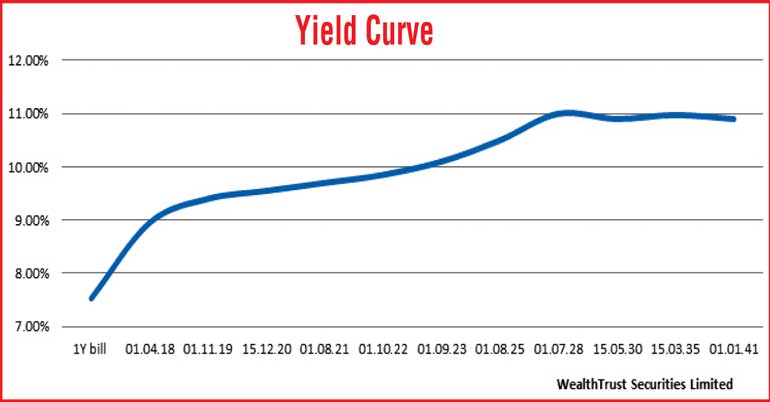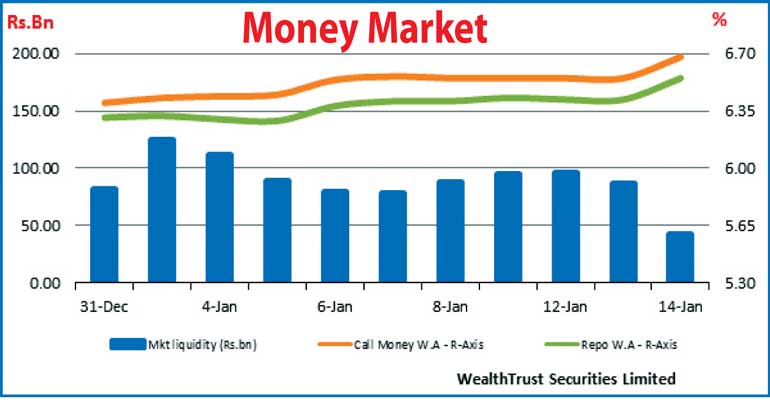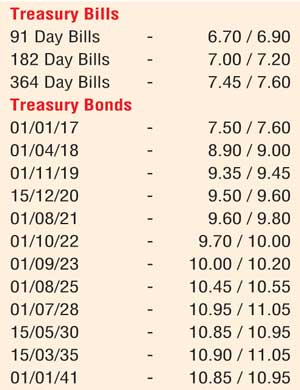 By Wealth Trust Securities

The positive momentum of the bond market continued during the week, with secondary market yields declining mainly on the longer end maturities, resulting in the flattening of the yield curve.

The absence of an expected Treasury bond auction along with the infusion of liquidity by the Open Market Operations Department of the Central Bank for the first time since September 2015, were seen as the main reasons for the declining yields.

Accordingly the yields of the 25 year maturity of 01.01.41 decreased by 85 bps to lows of 10.90% as compared against its previous weeks closing levels of 11.75/95 while the 19 year maturity of 15.05.35 reflected a decrease of 62 bps to 10.95% down from last week's closing level of 11.40/75.

This decrease was closely followed by the 14 year maturity of 15.05.30, 9 year maturity of 01.08.25 and 7 year maturity of 01.09.23, which dropped by 45 basis points each to 10.90%, 10.45% and 10.10% respectively.

Furthermore, two way quotes of the 01.11.19 and 15.12.20 were seen decreasing during the week to close at levels of 9.35/45 and 9.50/60.

However, the weighted averages at the weekly Treasury bill auction increased across all three maturities, continuing a six week trend.

In money markets, the Open Market Operations (OMO) Department of Central Bank was seen on Friday, infusing an amount of Rs. 4.08 billion on an overnight basis at a weighted average of 6.61% by way of a reverse repo auction, the first of such since September 2015.

This in turn, curtailed the upward pressure on overnight call money and repo rates that could have come about due to the increase in the Statutory Reserve Requirement (SRR) for all commercial banks by 150 basis points to 7.50%, effective Friday.

The overnight call money and repo rates averaged at 6.58% and 6.46% during the week. However, surplus liquidity in the system dropped to a four months low of Rs.42.51 billion stemming from the increase in SRR.

Rupee closes steadily

The USD/LKR on spot contracts was mostly unchanged at Rs.143.85/95 at the close of the week, subsequent to hitting an intraweek high of Rs.143.73. The daily USD/LKR average traded volume during the first four days of the week stood at US $ 92.85 million.

Some of the forward dollar rates that prevailed in the market were 1 Month - 144.47/55; 3 Months - 145.65/70 and 6 Months - 147.30/40.