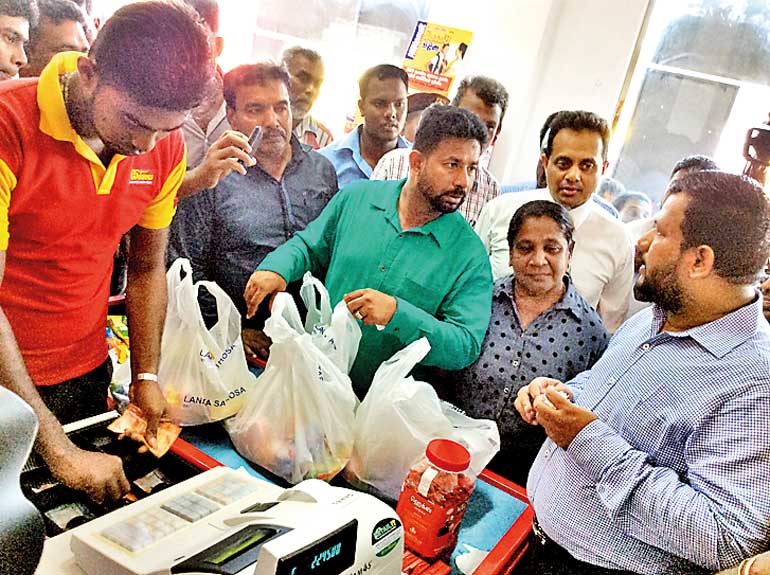 Minister of Industry and Commerce Rishad Bathiudeen and Lanka Sathosa Chairman Dr Rohantha Athukorala with a cross section of the Pesalai community at the launch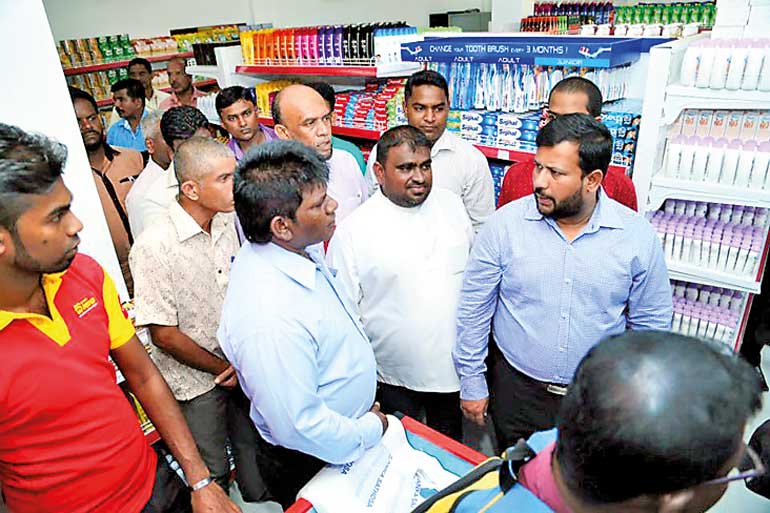 Mannar District in the north-west of Sri Lanka, one of the least developed districts in the country has been targeted by Sri Lanka's largest retail network Lanka Sathosa, for an increase in the quality of life with a new shopping experience/affordable living according to Minister of Industry and Commerce Rishad Bathiudeen, speaking at the opening of the Pesalai Lanka Sathosa Branch.

Pesalai which has the largest Catholic community in the district of Mannar made it to international media when clashes erupted between the LTTE and Sri Lanka forces way back in 2006, where almost 30 people lost their life and over a 200 people took shelter at the Our lady of Victory Church, reminisced Chairman Lanka Sathosa Dr Rohantha Athukorala. 'It is our duty to come to hamlets like this and serve the community with value for money products and be the price setter in the market place,' he said.

Pesalai is primarily a fishing village with a population of about 8,000 almost 97% of whom are Sri Lankan Tamil and the balance 3% Muslim. There are around 2,610 families and 7,350 persons in Pesalai where Lanka Sathosa partnered global household brands from Unilever, Nestle and Reckitt Benckiser at special prices for the housewives of Pesalai. There will be 127 products on special promotions in the month of March said CEO Rajiv Meewakkala.

After 30 years of war there are better prospects for the Mannar Business people if they get into a good business using the freely available resources such as the vast sea, land, wind, water, sunlight for Solar energy, Underground water using Tube wells, animal husbandry , freely available herbal plants,, paddy , fruits, pulses and so on. Then we can make a difference in the quality of life of the Pesalai residents said Rishad Bathiudeen addressing a large gathering at the simple launch event.

Lanka Sathosa which has the widest retail network is targeting a 35 billion rupee business in 2016 whilst being the price setter to the country that will help regulate the cost of living to a typical consumer. Sales on the first day were an encouraging amount touching almost half a million rupees and store traffic recording 400 plus, said Dr. Athukorala.