Intends to invest $25 million within three to five years
Shows interest in Kandy and Galle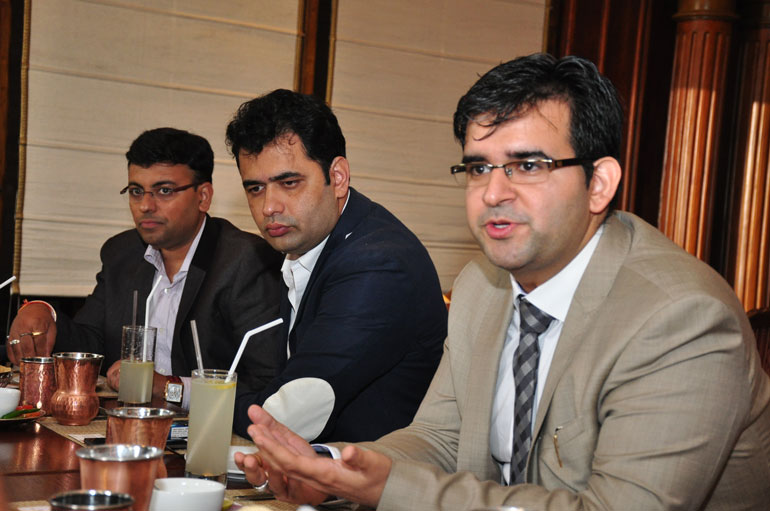 Sandal Lands Director Sanjay Kathuria (right) at the media briefing in Colombo

yesterday. Sandal Lands DM - International Project Sales Piyush Saddi, Associate Director Amit Sathe are also present - Pic by Lasantha Kumara
By Charumini de Silva

Sandal Lands, a leading real estate company in India yesterday confirmed their entry to Sri Lanka with an immediate investment of $10 million.

Capitalising on the booming development of the industry, the firm intends to enter the market with a mega housing project in Colombo partnered with the Government of Sri Lanka.

"There are multiple opportunities available from a development perspective. At present, we are in discussion with the Urban Development Authority (UDA) to see what opportunities we can evaluate together and I think very soon we will be able to do something with them," Sandal Lands Director, Sanjay Kathuria said.

Noting that they are interested in any kind of association with the Government, the firm asserted they are interested in areas such as residential, commercial and hospitality for investment opportunities in Sri Lanka.

"We are planning to finalise discussions with the UDA within the next three to six months and see if we can complete the housing project within three to four years time, but it depends on the size of the project," he added.

In addition the firm intends to invest up to $25 million within the next three to five years in the development business in Sri Lanka.

"Presently, as a development company we have come as a 100% foreign direct investment (FDI), but definitely once we come here — we will be selecting the best of the local partners to collaborate our projects," he noted.

Clarifying his point further he said: "We have a company which is already registered under the Board of Investment (BOI) by the name of Sandal Colombo (Pvt.) Ltd., thus it provides a lot of trust factor to our consumers."

Pointing that the firm has done research about Sri Lanka's development market for the past one and half years, they said with their immediate investment they are keen to serve the mid segment housing demand in Sri Lanka.

He said the company is also interested in venturing into cities like Kandy and Galle as these areas are emerging with the rapid infrastructure development which is taking place in the country.

Commenting on business expansion he said that they are interested in investing more in this side of the sub-continent. The Group recently partnered with the Government of Maldives for a PPP project.

Highlighting on the Indo-Sri Lanka relationship Kathuria said: "Recent visits by political leaders of the two countries created a very positive impact and reassured the relationship we have towards each other. This will certainly create a cumulative development for both countries."

Elaborating on competition he pointed that it helps to get the best out of everybody.

"Back home we compete with over 60 to 70 developers in our own city in Delhi. We understand that when you have to survive in a very hyper competitive market you have to come out with the best innovative product also take care of not only your consumers but also the environment. We at Sandal Land are cautious about environmental factors," he said.