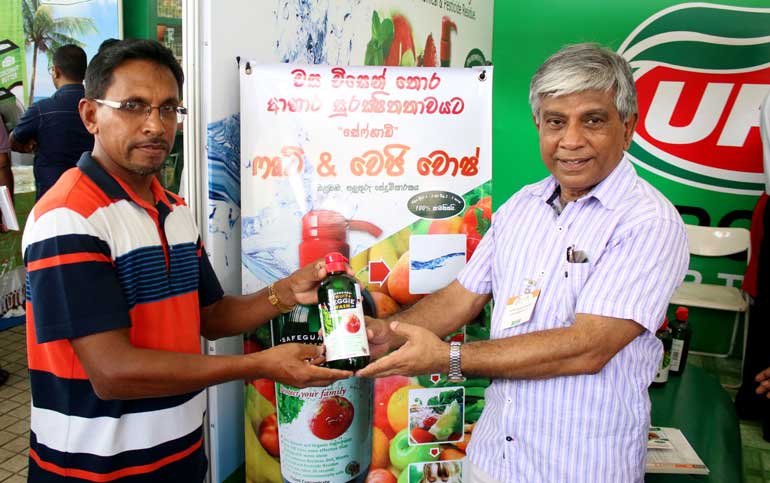 Jiffy Products Sri Lanka Agronomist Ajith Gunasena (left) and Unipower Chairman Jayantha Rajapaksha
Vegetables do not just appear in out kitchens out of nowhere. They make a long journey from the cultivations to the sales point and then to our kitchens. During this long journey, they are exposed to various kinds of harmful dust, soil, and bacteria as they are being harvested, handled, packed, and transported. If you keep eating fruits and vegetables that are not properly washed, in the long run, exposure to these chemicals might cause cancer. Unwashed vegetables contain a lot of parasites which can lead us to a number of incurable diseases.

So what is the best way to get rid of these harmful chemicals and bacteria? The perfect solution is Safeguard Fruit and Veggie Wash.

Safeguard Fruit and Veggie Wash is introduced by Unipower Ltd., Sri Lanka's most trusted distributor of agricultural products. Safeguard Fruit and Veggie Wash is especially designed to remove toxins from fruits and vegetables while preserving their natural taste.

A lot of people take the precaution of rinsing their fruit and vegetables in water, unaware that this is not enough to remove potentially harmful contaminants.

The blend of completely natural and organic ingredients in Safeguard Fruit and Veggie Wash is able to reduce the levels of contaminants. Toxins like agricultural pesticides and waxes are designed to be waterproof. So Safeguard Fruit and Veggie Wash is the perfect solution to get rid of these harmful toxins.

Safeguard Fruit and Veggie Wash is quick and easy to use and takes less than 30 seconds to clean, leaving only the fresh taste of healthy fruit and vegetables.

Manufactured in Australia using certified ingredients from reputable suppliers around the world, Safeguard Fruit and Veggie Wash has been accredited with NATA certification in Australia, making it one of the safest and most recognised products in the world.

This revolutionary product is marketed in Sri Lanka by Unipower Ltd.