Realty Management Services (RMS) has emerged as the largest integrated facilities management service provider in Sri Lanka, boasting a portfolio of prime commercial, residential and retail space spanning over five million sq. ft. including the iconic World Trade Centre, Colombo.

RMS combines both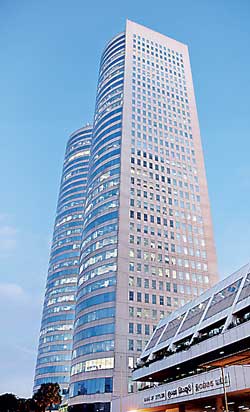 local and international expertise with extensive experience in managing properties, to provide exceptional service, operational cost savings and quality facilities to its wide clientele. RMS more recently provided consultancy services to '110 Parliament Road' lifestyle apartments, which was developed by Atlantis Developments Ltd. and currently undertakes the management of the development after completion.

RMS also provides facilities management to prestigious developments such as 'On Three 20', Empire Residencies, Crescat Residencies and Havelock City Apartments to name a few, in addition to the K-Zone Ja-Ela shopping mall and a Logistics Park at Orugodawatte.

Other than providing facilities management for private, public and government institutions, RMS also specialises in providing services and solutions in the fields of mechanical, electrical and plumbing, security, janitorial and cleaning , car park management, energy consultancy, green building consultancy, development management, CRM and helpdesk, financial and accounting services. Additionally, RMS is involved in agency services including leasing and selling properties of its clients.

Realty Management Services (RMS) is a subsidiary of Overseas Realty (Ceylon) PLC, a Board of Investment flagship company incorporated in Sri Lanka in 1980 to undertake the principal activities of property investment ,development and management. It is a public quoted company with listings in the Stock Exchange of Sri Lanka. Overseas Realty and RMS are the leading real estate service providers in Sri Lanka and have been in the business of property management for over 16 years.