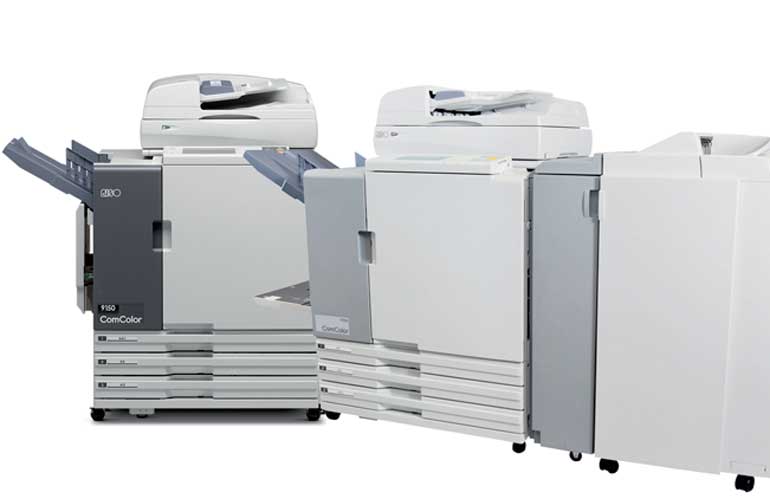 John Keells Office Automation Ltd. (JKOA), a fully-owned subsidiary within the Information Technology sector of John Keells Holdings PLC and the authorised dealer of RISO printers and copiers in Sri Lanka, has introduced the world renowned RISO ComColor printer series to the market.

RISO, the leading global manufacturer of high quality printers, offers high-speed, high-volume smart print solutions. Using distinctive technology, RISO emphasises high productivity, cost containment, and versatility to produce a balanced solution for customers, while consistently delivering high quality prints with convenience and simplicity for all users.

With improved performance and functions, RISO's award winning and distinctive technology works on a cold printing process and makes use of ink, instead of traditional toner printing, and offers several advantages.

JKOA Product Manager Deepal Weerakody emphasized: "RISO ComColor machines offer a cost effective, high quality color printing solution to the Sri Lankan market, with high speed, easy operation, and low cost per page for full-color printing, and is ideal for a variety of industries such as educational institutes, banks, healthcare facilities and printing companies."

The flagship product of the RISO ComColor series is the 9150 model, which offers high productivity and improves office print work, enhancing workflow efficiency and streamlining print production. With an unparalleled printing speed – it has the world's fastest color print speed of up to 150 pages per minute simplex A4 – the 9150 RISO ComColor is able to print 1000 full-color single-sided pages in approximately 6.5 minutes. The printer also boasts high capacity printing and stacking, as well as high-speed data processing, with shorter waiting times as printing begins in less than five seconds, with the ability to print A3.

RISO printers also have a cost advantage – the printer series runs at a reduced running cost, with smart technology that minimizes ink consumption, whilst maintaining optimal print quality. The RISO technology has in-line inkjet print heads, stable and flexible paper feeds, improved paper handling, reduced paper jams, and special fast drying ink which drives high-speed, high-volume printing. RISO's green technology reduces power consumption to an all-time low with the introduction of automatic power shut off and avoids harmful emissions, making them an environmental class leader.

RISO ComColor Series offers a variety of optional productivity-enhancing accessories which can be purchased separately and automates workflow from start to finish, such as stapling, punching, envelope finishing and perfect binding for booklet making, which streamlines production and eliminates the need for outsourcing.

Established in 1992, JKOA has dominated office automation solutions in Sri Lanka by introducing a range of reputed world renowned brands to the local market at affordable prices. The company is an authorised distributor of RISO ComColor Series printers and digital duplicators, bringing smart, environmentally friendly and economically viable solutions to Sri Lanka.