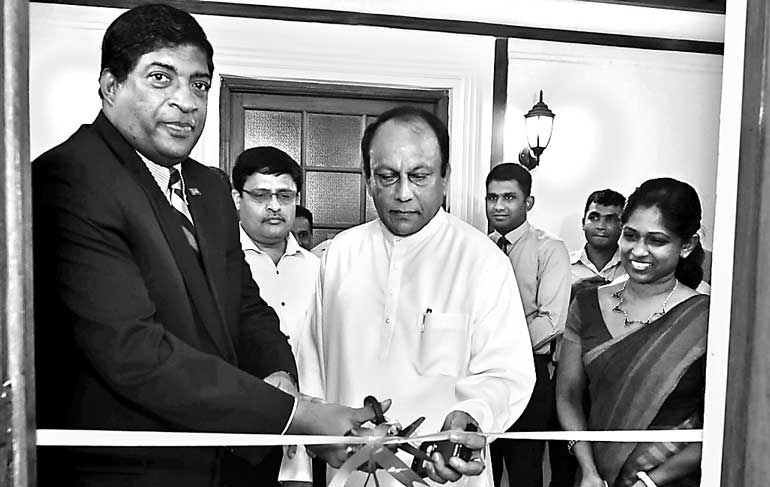 Public servants have been given an election pledge for 11 years to increase their salary but the good governance administration fulfilled it within 28 days therefore this Government expects further productivity from public workers, Finance Minister Ravi Karunanayake stated.

The Minister pointed out that the aim of the Government was to set up a better environment for public workers to achieve 100% productivity in their service.

The Minister was speaking at the opening of a new office for the Management Service Department of the Ministry of Finance on 3 May.

Addressing the gathering, Karunanayake added: "There are currently 1.4 million workers employed in the public service. Rs.600 billion is required to pay their salaries. In addition, another Rs. 182 billion is required to pay pension. All this money is paid by the general public. Therefore, public servants should commit themselves to give a better service to the people in return.

"We can remember well how the previous regime pledged to the public workers on several occasions during their 11-year tenure that they would increase the public sector salary. However, we granted the historic salary increment for the public servants 28 days after our Government assumed power. We expect the public sector to mete out justice in return. Although the Government changed, no Government officers were changed under the good governance administration.

"We have been creating an attractive environment for public servants to enable them to perform their duty better. The office we are opening today here is clear evidence of our concept. We expect maximum service for the people through this office that is equipped with all the necessary facilities. We are ready to facilitate the public sector to enable it to increase its productivity up to 100%," the Minister said.

State Finance Minister Lakshman Yapa Abeywardena, Treasury Secretary Dr. R.H.S. Samaratunga, Deputy Treasury Secretaries S.R. Atygalle, A.R. Deshapriya and Chandra Ekanayake, Additional Secretary R. Semasinghe, Director General of Management Service Department H.G. Sumanasinghe and several others were present at the occasion.
---
Ravi K meets JBIC CEO in Japan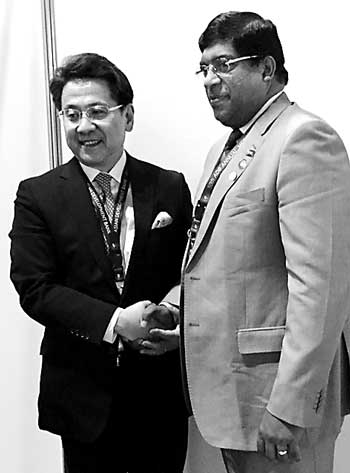 A meeting between visiting Finance Minister Ravi Karunanayake and Japan Bank of International Corporation (JBIC) Chief Executive Officer Tadashi Maeda was held on 4 May.

This meeting was held on the sidelines of the 50th annual conference of the Asian Development Bank being held in Yokohama in Japan.

During the meeting with Maeda, Finance Minister Karunanayake extended the Sri Lankan Government's gratitude to the Japanese Government for its assistance granted to further strengthen the friendship between the two countries.

In response, Maeda who recognised Sri Lanka for its entry to the journey towards sustainable development said that Japan is ready to support Sri Lanka on every possible occasion.