From left: Finance Ministry Secretary Dr. R.H.S. Samaratunga, Advisor to the Ministry of Policy Planning, Economic Affairs, Child, Youth and Cultural Affairs R. Paskaralingam, Finance Minister Ravi Karunanayake and Central Bank Governor Arjuna Mahendran at the forum – Pic by Upul Abayasekara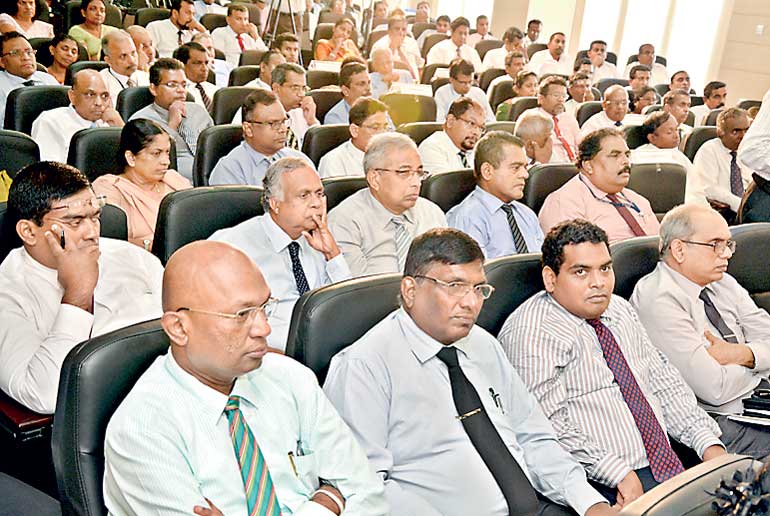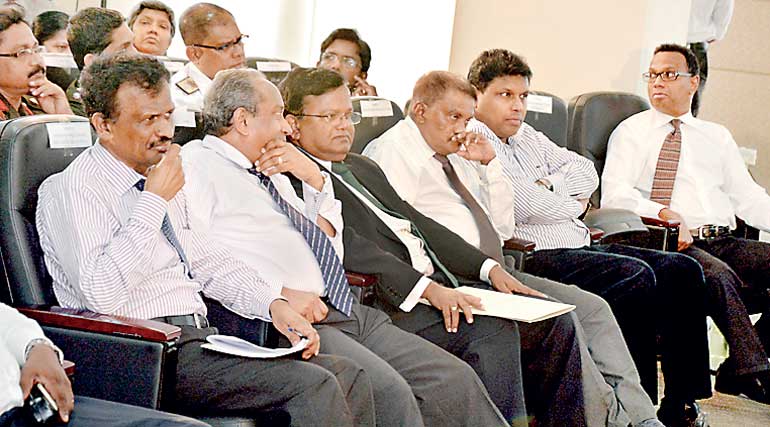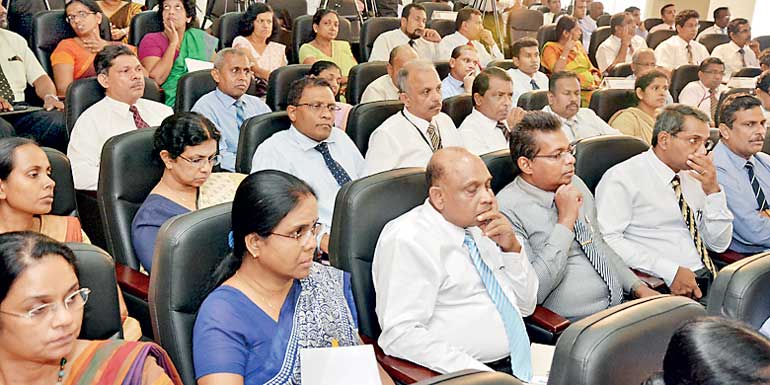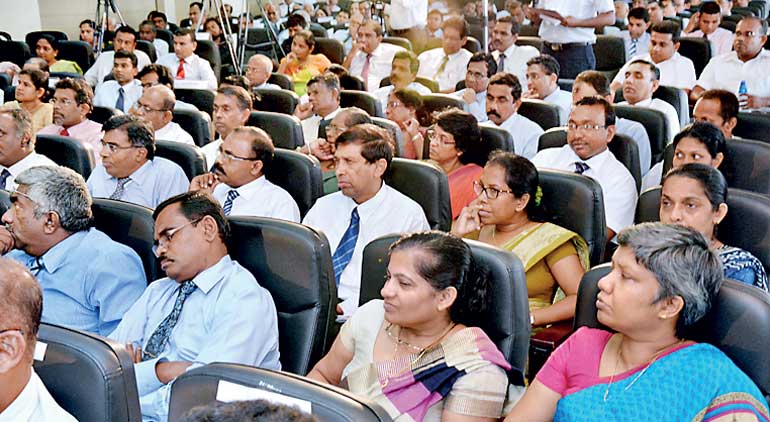 By Himal Kotelawala

Twenty-three issues pertaining to the private sector were discussed at the Ease of Doing Business Forum yesterday organised by the Ministry of Finance.

This was the third in a monthly series of forums, attended by various private sector entities and representatives of corresponding government agencies.

At yesterday's forum held at MILODA, Academy of Financial Studies, 23 out of 48 formally raised queries were taken up, facilitated by a high profile panel that included Finance Minister Ravi Karunanayake and Central Bank Governor Arjuna Mahendran.

According to the Ministry of Finance, the core function of the Ease of Doing Business initiative that began in May, this year, is to reduce the turnaround time in matters relating to doing business and look at possibilities of assisting State institutions in cutting down on the bureaucracy in Government policy.

The Ease of Doing Business Forum is not a first-contact point for resolving private sector concerns, but rather, a helpful platform for business leaders and the authorities to put their heads together and resolve everyday matters pertaining to doing business in an open environment that is conducive to constructive criticism, discussion, debate and analysis.

High-ranking officials from ministries, departments and other Government agencies attend the forum to act as liaisons, providing the private sector much-needed assistance in cutting through the all-too-obtrusive red tape.

Future forums, a Ministry official told the Daily FT, would be attended by the respective Ministers to further optimise the process.

Representatives from various companies including Electro Metal Pressings Ltd., Lanka Bio Fertilizers Ltd., Seagulf Shipyards, Neil Fernando and Company Ltd., Ramya Horticulture Ltd., Ceylon Tobacco Company PLC, Citihealth Imports Ltd., Samson Rubber Industries Ltd., Ceylon Grain Elevators PLC, PricewaterhouseCoopers, Vintage Teas Ceylon Ltd., Lanka Fruit & Vegetable Producers, Processors & Exporters Association, SML Frontier Automotives Ltd. and MAS Holdings raised their concerns at the forum, all of which were addressed either directly by the panel and/or department heads and other officials from the relevant Government agencies.

Around 120 to 130 individuals from the private sector attended the event and the Ministry is looking at the possibility of holding a forum every month, going forward.

Anyone interested in taking part could forward their queries through the forum's web portal accessible via the Ministry's official website treasury.gov.lk or email them to eodb@mo.treasury.lk. A special Facebook page has also been opened for the convenience of participants seeking to actively engage the Government. On a directive by Minister Karunanayake, a few Government institutions have also established in-house public relations offices in order to provide a more efficient service to private sector entities and the general public.