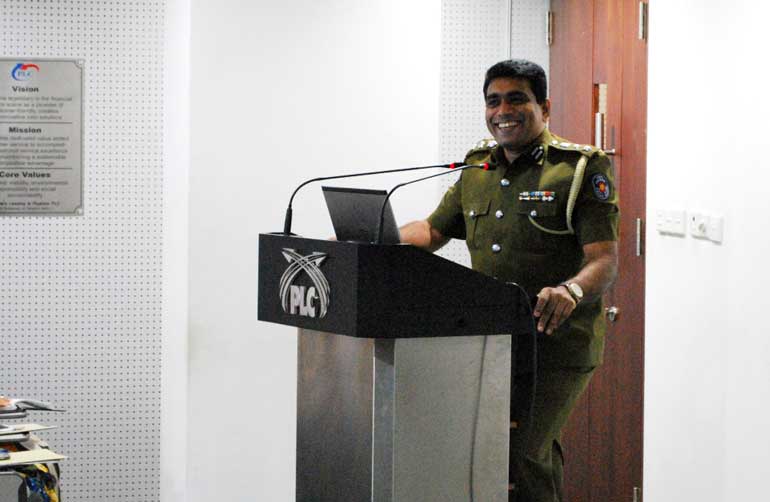 Ajith Rohana, SSP, Colombo Division and former Police Spokesman, Attorney-at-Law, educating seizers of PLC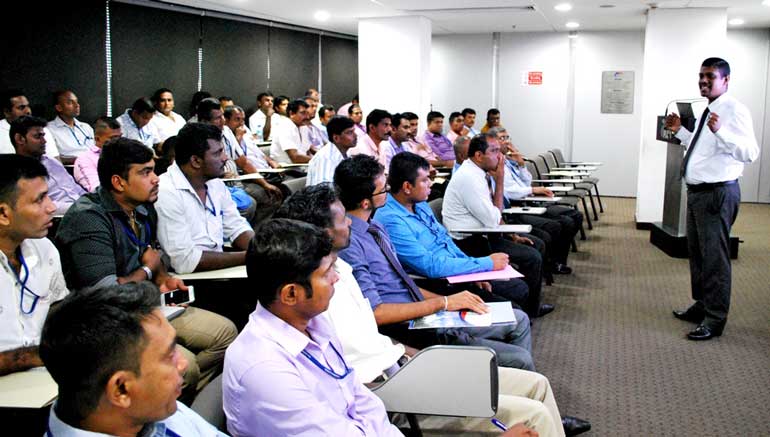 Janaka Wickramaratne, Legal Officer, Attorney-at-Law, PLC, educating the seizers of legal aspects of the total seizing operation​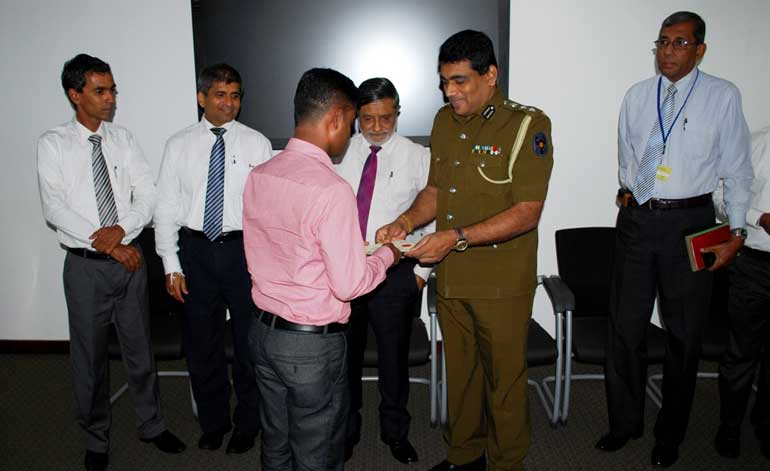 A seizer who attended the workshop receiving his certificate from Ajith Rohana, SSP, Colombo Division and former Police Spokesman, Attorney-at-Law. While (from left): Lionel Fernando, Deputy General Manager (Operations), PLC, Sanjeewa Bandaranayaka, DGM (Finance and Administration), D.P. Kumarage, CEO/General Manager, PLC and W.B. Ranasinghe, Retired ASP, General Manager of J&T Security and Investigation Company look on
People's Leasing & Finance PLC conducted the third edition of its awareness program for registered seizers graced by PLC CEO/General Manager D.P. Kumarage.

PLC is the pioneering leasing company in the country to recognise services of seizers and endorse their professional value by offering them with certificates.

The workshop was conducted for 50 registered seizers of PLC at the auditorium of the company's Head Office. Lionel Fernando, Deputy General Manager (Operations) PLC, Ajith Rohana, SSP, Colombo Division and former Police Spokesman, Attorney-at-Law and W.B. Ranasinghe, Retired ASP, General Manager of J&T Security and Investigation Company with senior management of PLC made their presence at the workshop.

Kumarage addressed the gathering. He said PLC is the foremost leasing company in Sri Lanka that held workshops to seizers and presented them certificates to recognise their professional value and to uphold the dignity of labour.

"Our company re-possesses company owned vehicles only through registered seizers of PLC. Hence PLC as a company associating closely with people making sure this operation is carried out in a peaceful, lawful and ethical manner safeguarding self-respect of customers. We presented certificates to seizers who participated in this workshop with a view to adding a professional outlook to seizing operation. We intend to conduct capacity building workshops for the benefit of other seizers of PLC who are attached to our island wide branch network," said Kumarage.

The one-day workshop made emphasis on legislative aspects of a seizing operation. Seizers were educated on how to regularise procedure of means to keep respective police stations informed prior to seizing operations and safeguard security of citizens and vehicle users to finally ensure quiet possession of the vehicle by its absolute owner that is PLC.

The workshop further made emphasis on scenarios such as pregnant women and aged people being in the vehicle at the time of seize and how the seizers should act in such situations.

SSP and Attorney-at-Law Ajith Rohana and PLC Legal Officer, Attorney-at-Law, Janaka Wickramaratne were the resource persons who delivered lectures at the workshop.

Attorney-at-Law Ajith Rohana, SSP, invited special guest, thanked PLC for initiating a program to educate seizers on legal aspects of their job, security measures to adopt and to endow a professional outlook to their job by offering them certificates of recognition.

"Repossessing process of vehicles carried out by leasing companies is of utmost importance. Similarly it is important this process is carried out in a hassle free manner without interrupting people's security safeguarding their legal rights. As an official dedicated to people's welfare I commend this endeavour by People's Leasing Company," he said.

People's Leasing & Finance PLC is the undisputable non-bank finance sector market leader in Sri Lanka.

Founded in 1995 as a subsidiary of the largest state bank in Sri Lanka the People's Bank, PLC is distinctly recognised as the number one leasing company in the country. PLC has secured market leadership for over 13 consecutive years in the local leasing sector.

In recognition of the credit quality of the company, Fitch Rating Lanka has assigned PLC a credit rating of AA-(lka) which makes PLC the highest rated finance company. PLC is the only Sri Lankan finance company to have two international ratings. It has also been recognised as one of Asia's Most Promising Brands 2012/13 by ibrands 360 – World Consulting and Research Corporation. Furthermore, LMD/Nielson have recognised PLC as the most respected non-bank financial institute in Sri Lanka.

PLCs special financial services products include; leasing, fixed deposits, saving accounts, personal and business loans and Islamic financial services. Its subsidiaries are; People's Insurance Ltd, People's Microfinance Ltd., People's Leasing Property Development Ltd., People's Leasing Fleet Management Ltd. and People's Leasing Havelock Properties Ltd.

The uniqueness of PLC is its strength and the ability to provide diverse financial services under one roof to its customers, thus enabling the customers to obtain these services on easy terms.