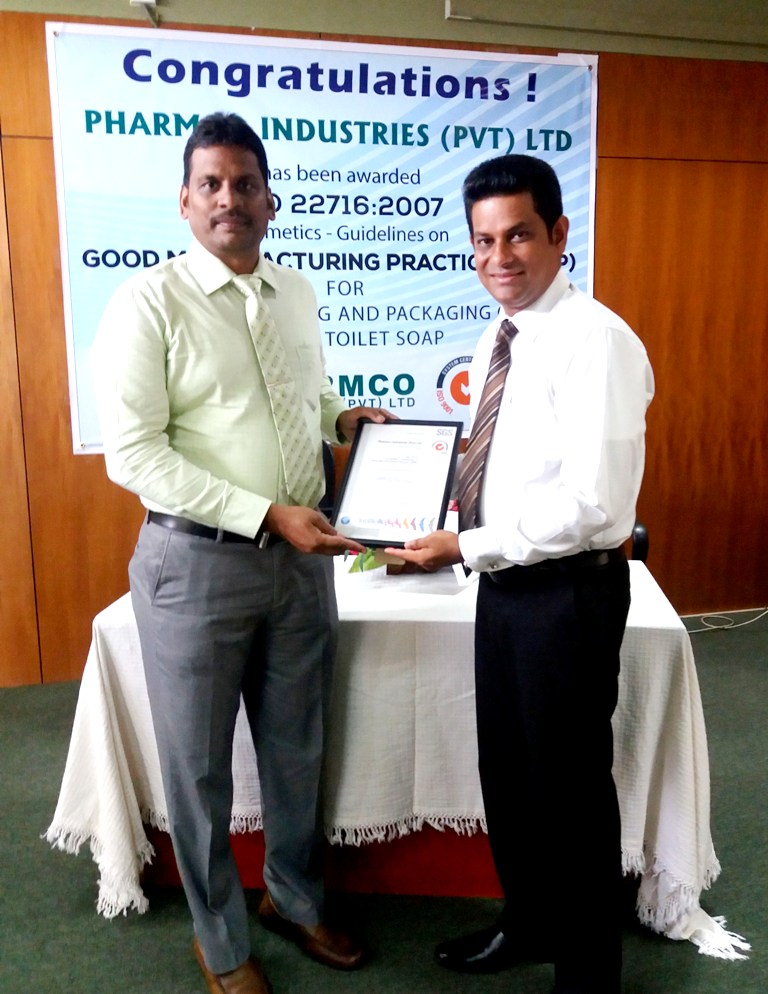 Pharmco Industries Managing Director S. Sivarajah receives the ISO 22716:2007 certification from SGS Lanka Business Manager (Certification & Business Enhancement) Chamika Wimalasiri
Pharmco Industries Ltd., the largest third party bathing and laundry soap manufacturing company in Sri Lanka, has obtained ISO 22716:2007 certification for manufacturing bathing and laundry bar soaps for the first time in Sri Lanka.
This certifies that all Pharmco products are manufactured in accordance with Good Manufacturing Practices and hygienic conditions and all testing methods/practices are carried out to ensure that only the highest quality products are sent to the market.
Pharmco Industries is the soap manufacturing arm of ReeBonn cosmetics group and the company manufactures soap for many multinational and local companies for their local and international requirements. The company, which also obtained ISO 9001:2008 certification, is located in Ekala, Ja-ela with a large production and storage facility.
This venture has a significant annual production capacity with 100 factory workers including chemists and other experts.
Pharmco Industries Managing Director S. Sivarajah speaking at the award ceremony said: "It is a great privilege to inform that we have obtained the ISO 22716:2007 Certification on 21 June for manufacturing bathing and laundry bar soaps for the first time in Sri Lanka. We are very proud about this achievement since we are the one and only soap manufacturing company awarded with this certification in the island as of now and we thank all our stakeholders who have supported us to achieve this great certification."