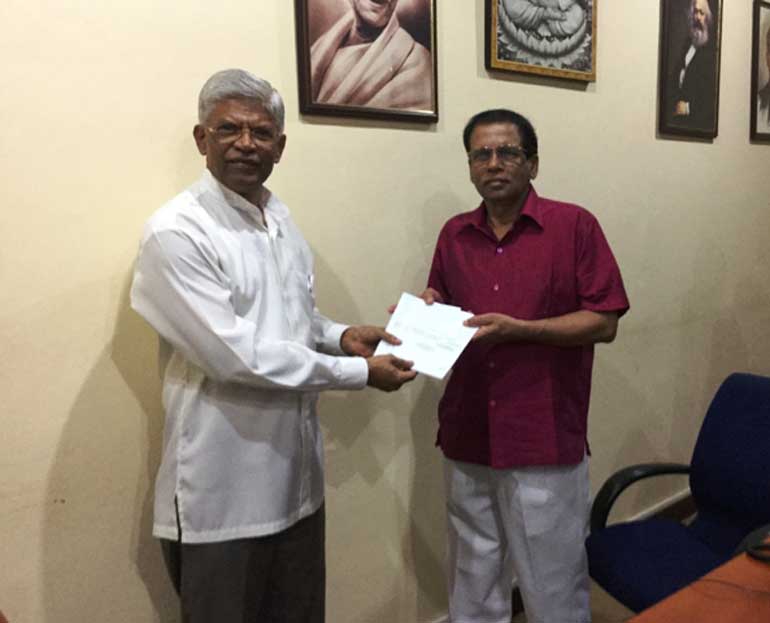 In the recent weeks President Maithripala Sirisena has undertaken the task of consulting groups of intellectuals and captains of industry with a view to sharing their views and experience to improve Sri Lanka's economy. His pre-occupation should be seen in the context of the current status of the economy as well as the general elections due to take place in the near future.

During a meeting held on Tuesday (23 June) Pathfinder Foundation (PF) Chairman Bernard Goonetilleke handed to the President a comprehensive economic policy reform road map 'Charting the Way Forward: Prosperity for All', aimed at reviving the economic growth and development in Sri Lanka.


While handing over the road map, Goonetilleke stated that it covers 12 broad subjects crucial for development of the economy. These included subjects such as increasing agricultural productivity, reform of state owned enterprises, exports and foreign direct investment, etc. He explained that the Foundation would present the road map to all the major political parties currently represented in the Parliament, so that it can influence their election manifesto development process focusing on better social and economic development.


The road map developed by the PF strongly urges political parties that all handouts, subsidies and other welfare measures, included in their manifestos should be costed and specific measures should be identified for financing the incremental costs.

Development of the road map was undertaken on the basis of over 50 studies commissioned by the Foundation covering issues such as export development and diversification; strengthening the conducive climate for foreign and local investment; watering the North Central and Northern Provinces; promoting micro finance to empower conflict affected communities; increasing living standards of plantation communities; addressing macroeconomic adjustments and prospects for improving efficiency and productivity of State Owned Enterprises (SOEs), etc.


As an independent non-partisan think-tank PF seeks to promote active discussion to build consensus among politicians, policy makers and the general public on a commonly accepted package of economic reform. The road map prepared by PF could be accessed at www.pathfinderfoundation.org and readers' comments are welcome at [email protected]