Sri Lanka's fine paper specialist Papyrus Papers has launched a new collection of graphic papers from the Italian paper brand Favini, significantly enhancing the choice and versatility of its offering to local designers and printers.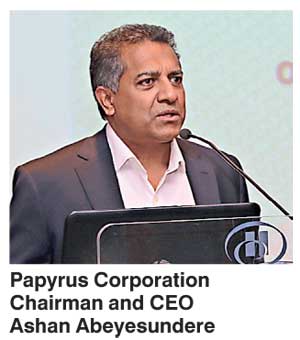 The extensive new range of innovative best-in-class graphic papers and boards from the Favini portfolio was introduced to the market recently at an event organised by Papyrus Papers, the sole distributor for the brand.

The brand that caused a sensation in the paper market in the 1990s with the introduction of Alga Carta – a special paper containing algae that was harming the ecosystem in the Venetian Lagoon, Favini displayed its new products – Bianco Flash Master, Prisma, Classy Covers, Shiro, The Tube, Twill and Burano – and demonstrated their many applications at this event.

Speaking at the event, Favini Area Manager Francesco Cimitan said these boards and papers serve a variety of uses from communication material to packaging and beyond. "Every product has its own unique sense of use, but across the range the products represent great versatility," he said.

"Favini is proud of its sole distributor Papyrus Papers and works very closely with the company to deliver its products to Sri Lanka," Cimitan said. "Favini produces great products in Italy which are associated with great brands like Lamborghini, Prada, Versace and Lindt as well as many Italian and French designer products. We are confident that the new products launched will delight customers in Sri Lanka who are looking for high quality printing."

He said other products in the Favini range such as Twist, Softy, Remake, Majestic, Sumo, Lunar, Crush and Shiro (Tree Free) would be available to customers in Sri Lanka on order.
Favini Area Manager Francesco Cimitan with some of the invitees at the launch event


Papyrus Corporation Chairman and CEO Ashan Abeyesundere said Papyrus Papers welcomed the opportunity to consolidate its market leadership by expanding its offering of fine paper and board with new products from a global leader of the calibre of Favini. "As the market leader for fine papers for printing, corporate stationery and digital Quick Print services, we have already earned the trust of designers and printers looking for quality," he said. "The new Favini range is a great addition to our portfolio. Our customers now have an amazing spectrum of choice from the brands we represent."

Tracing its roots to its 1736 mill in Rossano Veneto, Italy, which was purchased by the Favini family in 1906, Favini doubled in size in 1998 with the acquisition of Cartiera di Crusinallo, a producer of Casting Release and Cast-Coated1 paper. Following a restructuring in 2008-09, Favini S.R.L. is now owned by the private equity fund Orlando, leading a group of investors.

Established in 2002, Papyrus Papers Ltd. has a 70% share of the country's Fine and Specialty Papers market. The company is a fully-owned subsidiary of Papyrus Corporation which also owns Print Point Ltd., a leading on-demand, quick-print digital printing specialist, JAMPhoto, the company that pioneered the production of digitally printed Photobooks in Sri Lanka and Ashalin Investments Ltd., the Group's property management company.