Overseas Realty (Ceylon) PLC recorded a group profit after tax of Rs. 788 million, for the first quarter ended 31 March, a marginal decline over the corresponding period of 2014. The Group registered a revenue of Rs. 1.1 billion, a decrease of 34% over the corresponding period of last year.

The group revenue was affected by lower apartment sales at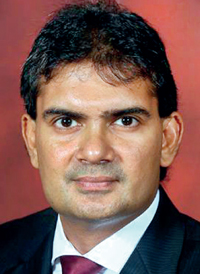 Havelock City which decreased by 52% to Rs. 601 million. The performance of the Group was supported by revenue from leasing which grew by 15% to Rs. 488 million due to high occupancy levels and average rentals at the World Trade Centre (WTC), with other services contributing Rs. 40 million an increase of 30% resulting in a total revenue of Rs. 1.1 billion.

The piling work at the Havelock City Phase 3 and Phase 4 residential development is planned to commence in May. Around 23% of Phase 3 units have already been pre-sold.

The Group Net Asset Value per share as at 31 March increased by 3% to Rs. 31.63 and the Earnings per Share for the period stood at Rs. 0.89. A total dividend of Rs. 1.50 per share was declared for the financial year ended 31 December 2014.