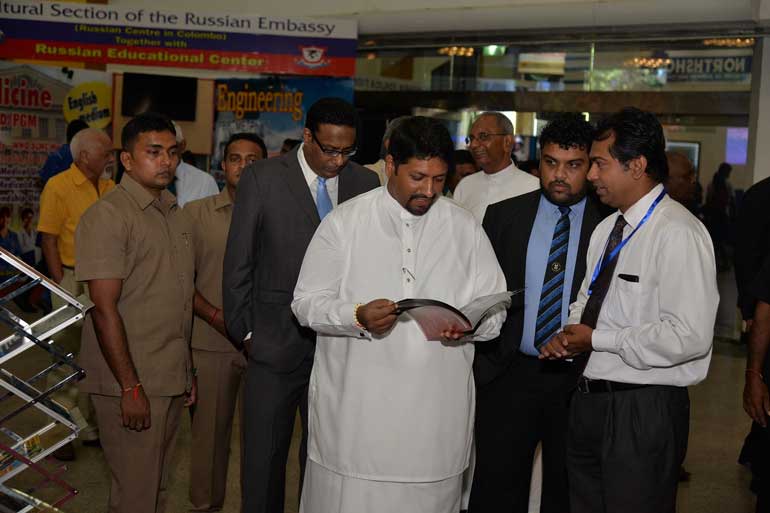 Defence Minister of State Ruwan Wijewardene at the inauguration ceremony of the higher education and career exhibition, Adyapana
Education is indeed the bedrock for the future success of a youth, a country and a generation. It is an undeniable truth that a sound secondary and tertiary education would most certainly pave a path of greater success for the individual and society at large. This truth has been ingrained in citizens of Sri Lanka to whom education is considered of prime importance.

On 2 October, 'Education' opened its doors at BMICH to give you the 'passport to your future'. Sri Lanka's most focused higher education and career exhibition, Adyapana 2015, will be held for the 10th consecutive year from 2-4 October. The event has been renowned as a focused and education oriented exhibition, patronised by keen students who have clear intentions on furthering their education in Sri Lanka or overseas.

This year marks a special milestone in the history of Adyapana; the exhibition will be celebrating its 10th Anniversary in supporting the youth of this country. The organisers have planned several new concurrent events to supplement this mega show. A highlight at this year's edition will be the offering of over 50 scholarships for students to study here and abroad. Scholarships ranging from 50% to full free scholarships will be offered by the participating institutes and organisers.

Adyapana has been seen as a central platform by students to pursue their education. Over 12,000 students visited last year's event during the course of three days. There will be over 100 exhibition stalls displaying and informing the general public of various courses, student programs, higher education options and job opportunities.

Adyapana is proud to announce the partnership with S. Thomas College, Old Boys Association. This joint venture will enhance the image of the exhibition to be a 'must attend' event for all.

The event which is held immediately after the conclusion of the Advanced Level examinations is the best opportunity for students who are looking for immediate opportunities to further their education.

Adyapana has through its years of existence built a reputation of comprising one of the highest student turnover rates, with a large percentage of those visiting the exhibition, making their future decisions from the options that have been provided at Adyapana.

The three-day education fair is set to feature specific pavilions for visiting universities and will include special sessions focused on students and their career decisions with the participation of a host of top professionals.

Key features of Adyapana:

nOver 50 full and partial scholarships awarded for students

nSpecialised seminars by prominent speakers

nEntertainment and 3D gaming zone competitions

nOn the spot registrations and acceptance by international universities

nOver 100 companies exhibiting

nFinals of an all island quiz competition

nParticipation from over 15 schools

ICBT Campus, Northshore College and ACBT have come forward as the Gold Sponsors. Official Banker is Seylan Bank.

The event will also comprise of many other attractions that will be focused on the growing student population in the country and provide the visitors with many value additions during the three days.