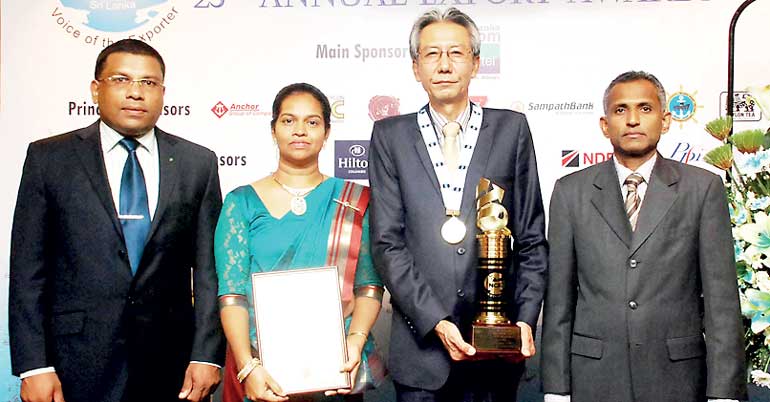 From left: NLPL Manager Human Resource Development Ananda Subasinghe, NLPL General Manger Sujatha Egodagedera, NLPL Deputy Chairman and Managing Director Yoshinari Shimaya and NLPL Chief Marketing Officer Kumara Wickrema
Noritake Lanka Porcelain Ltd. (NLPL) last week emerged one of the top winners at the prestigious National Chamber of Exporters (NCE) Awards by winning a Gold Award in the Extra Large Category (Industrial Sector) for the second consecutive year.

"We are extremely happy at being able to win this award for two consecutive years and continue to remain the top winner in this particular category. This is a great achievement and one that has inspired our team both at the head office and at the factory in Matale. This no doubt spurs us on to even greater heights and to do even better in our journey," said a happy Deputy Chairman and Managing Director of NLPL Yoshinari Shimaya.

In September last year NLPL won the Silver Award in the 'Large Manufacturing' category at the National Productivity Awards. There was no Gold award in this category and NLPL thus became the overall winner and highest scorer in this sector.

Established in 1972 as a joint venture company between the Ceylon Ceramic Corporation and the one hundred year old Noritake Co Ltd. of Japan, NLPL today enjoys iconic status as Sri Lanka's pioneer porcelain tableware manufacturing company.

The factory began operations in 1972 with a 150 member workforce which has grown over the years to 1,200 skilled workers today. Most of the factory's workers, supervisors and managers have been trained in Japan in their relevant fields.

Apart from Japanese expertise, its management processes are supported by ISO 9001:2008 certification from the Sri Lanka Standard Institute while complying with international ethical standards.

The factory in Matale is one of the largest production facilities in the world which produces high quality tableware under the brand Noritake.