Entrepreneurial Reawakening initiative targeting youth kicks off
ILO assures commitment to new Government to create 1M new jobs
Bathiudeen says economic reforms of unity Government are now being put into action step by step
Not knowing how to commercialise their products, a key challenge for young entrepreneurs
By Charumini de Silva

The National Enterprise Development Authority (NEDA) in collaboration with the International Labour Organisation (ILO) yesterday inaugurated an 'Entrepreneurial Reawakening' initiative at the BMICH in Colombo with the aim of building a better tomorrow for young entrepreneurs.

The initiative included an online platform ye.lk, a youth oriented trilingual virtual one-stop shop aimed at providing user friendly up-to-date information for existing and potential entrepreneurs to collect and exchange information, receive guidance about available business support services and obtain advice and support. In addition, NEDA also unveiled a guidebook on entrepreneurship and a newsletter for youth entrepreneurs of Sri Lanka.

Highlighting the importance of the web portal launched, ILO Country Director Sri Lanka and Maldives Donglin Li said, "Although there are a number of public, private and non-profit organisations offering a wide range of services to enable an entrepreneurial culture and to support enterprises in Sri Lanka, only a few young people are aware of and use those services. Thereby, this youth employment platform aims to address such issues becoming their face in the virtual space facilitating the match between demand and supply of support services where young entrepreneurs can find solutions for their problems through localised and tailored support," he pointed out.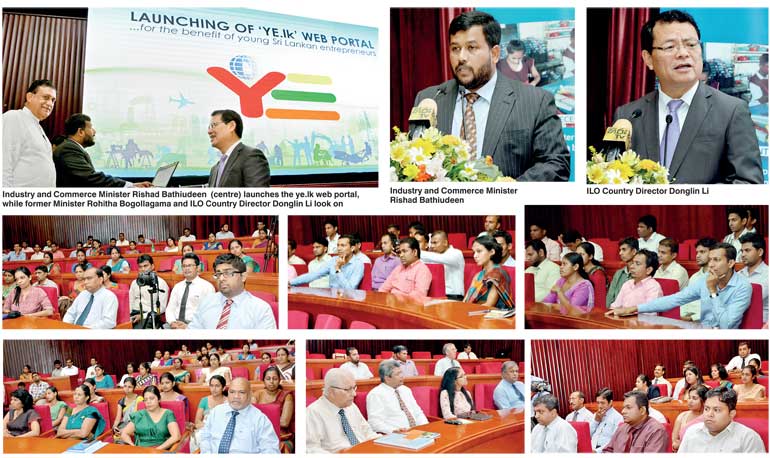 Commenting on the unemployment rate in Sri Lanka Li asserted that as a middle income country the unemployment rate among youth was about 20%, much higher than the overall unemployment rate which is about 4%.

He also said that it was high in comparison with the youth unemployment rate in South Asia, which stands around 10%.

"In Sri Lanka looking at tertiary education levels and the unemployment rate, it appears that the higher the educational level amongst the youth, the higher the probability of being unemployed," he stated.

The Country Director said that ILO has initiated programs globally as well as in Sri Lanka to support the Government, employers, and trade organisations towards promoting youth employment, focused especially on equality, employability, entrepreneurial skills and economic empowerment.

Furthermore, he said that ILO has initiated three pilot projects in Sri Lanka aimed at Industry and Commerce Minister Rishad Bathiudeen SMEs and cooperatives, including training programs and setting up labour market information centers.

Outlining next year's plans he said that the organisation intends to support the Government in creating more public employment service centres to match market demand and supply.

"We want to create and active labour market information system. It is different from the traditional system," he added.

He went on to say that they have supported the Government to establish a national public employment service centre in Colombo as well as in district levels in Vauniya, Mannar, Ampara and Batticaloa.

"From the ILO we will make a humble contribution to the new Government, to create one million new jobs in the next five years for our youth in Sri Lanka," Li stressed.

Industry and Commerce Minister Rishad Bathiudeen said the economic reforms initiatives of the unity Government are now being put into action step by step.

Pointing out that SMEs are an important sector of the economy and practical measures are important to engage youth of the country to be stakeholders of the nation building process, he added that there is an urgent need to encourage the youth towards entrepreneurial skills and engage them in an effective way.

According to the Government's latest data Sri Lanka's SME base consist of a little more than one million enterprises in total, where 92% of them are micro scale enterprises, while 50% of the medium scale establishments are located in urban areas and 74% micro establishments are in rural areas.

The Minister said that although there are 92% micro scale enterprises, the actual employment generation capacity is around 30% of the total SMEs, which is relatively very low.

NEDA estimates Lankan youth engaging in SMEs to be a low percentage of only 15% and a maximum of 20% of the total youth workforce. Therefore this initiative attempts to encourage youth engagement in entrepreneurship through their most common networking platform, the internet.

"Although most of Sri Lankan youth are increasingly engaging in Facebook and YouTube the number of youth entrepreneurs is not that much, which is discouraging. Hence, in an attempt to build a better tomorrow for Sri Lankan young entrepreneurs we hope that this online web portal launched today by NEDA for our youth would be useful for them to collect and exchange information," Bathiudeen stressed.

According to the Minister lowest registered micro and small enterprises are reported from Puttlam district, while highest registered micro and small enterprises are from Kilinochchi district.

Industry and Commerce Ministry Acting Secretary Asitha Seneviratne commended the effort by the ILO and NEDA on the timely initiative.

He further said that one of the key challenges of young entrepreneurs was that they did not know how to commercialise their products and therefore, educating the entrepreneurs in those lines was a timely task which has been fulfilled by NEDA through this event.
Pix by Upul Abayasekara