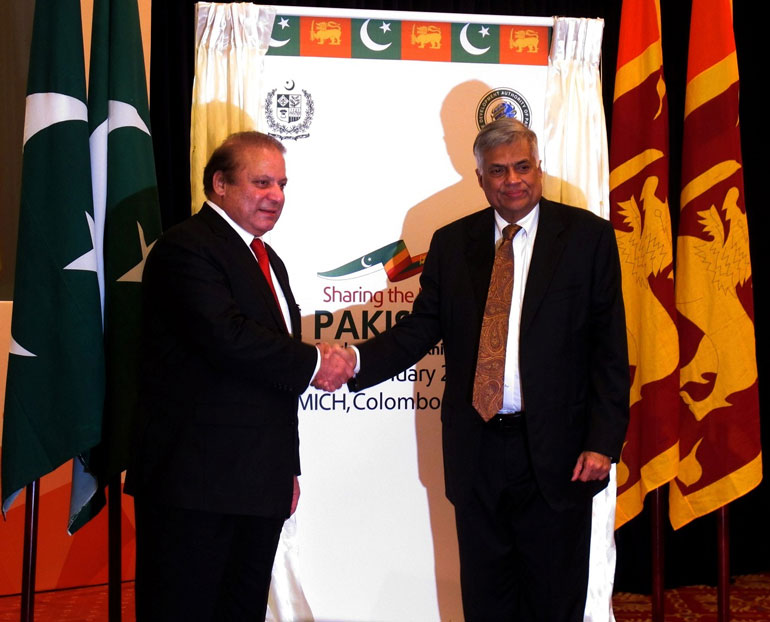 High-level expo featuring leading Pakistani organisations from 15 sectors to be held from 15 to 17 January at the BMICH

The Prime Minister of Pakistan Nawaz Sharif and the Prime Minister of Sri Lanka Ranil Wickremesinghe on 5 January announced the 'Pakistan Single Country Exhibition 2016', thereby boosting the long-standing commercial ties between the nations and inviting businesses of the two countries to tap into the growth potential of each other's economies and leading economies to which they enjoy preferential trade access.

The high-level exhibition which will be held in Sri Lanka from 15 to 17 January at the BMICH and feature representation from Pakistani commercial establishments in 15 sectors, was announced by Nawaz Sharif and Ranil Wickremesinghe at a launch event held at the Temple Trees during the former's official visit to Sri Lanka. The announcement was made in the presence of many dignitaries including Pakistan's Minister‬ for ‪Commerce Khurram Dastgir Khan, the High Commissioner of Pakistan in Sri Lanka Maj. Gen. (R) Syed Shakeel Hussain, Secretary Commerce Muhammad Shehzad Arbab and Secretary Trade Development Authority of Pakistan Rabiya Javeri Agha.

The event, organised by the Trade Development Authority of Pakistan (TDAP) in partnership with the High Commission of Pakistan in Sri Lanka is expected to feature over 110 top organisations representing some of the Pakistan's leading companies and brands from a diverse range of industries. These include engineering products, auto parts, agro products, textile and clothing, designer wear, handicraft and traditional textiles, cosmetics and herbal products, pharmaceuticals, cutlery, gems and jewellery, furniture, carpets, marble and services.

Participants include leading companies such as Toyota GT Motors, Pak Star Automotive Ltd. and International Industries Limited (IIL). Apart from the exhibition with over 400 stalls, the event will feature many B2B meetings and Pakistani cuisine as well and is expected to be attended by a trade delegation from the Maldives.

"The 'Pakistan Single Country Exhibition 2016' provides a useful platform to further enhance the excellent commercial and bilateral relations between Pakistan and Sri Lanka and a timely opportunity for Sri Lankan businesses to tap into the vibrant and progressive economy of Pakistan and via the country to many other major economies," the High Commissioner of Pakistan in Sri Lanka Maj. Gen. (R) Syed Shakeel Hussain said. "Having many of Pakistan's leading commercial establishments and brands from an array of industries under one roof presents an unprecedented opportunity for any interested parties."

Pakistan, with a Gross Domestic Product (GDP) of $ 243.6 billion (in 2014 at market prices) and population of 185 million, already has Free Trade Agreements (FTAs) (which are signed and in effect) with China and Malaysia, in addition to Sri Lanka. The second largest trading partner of Sri Lanka in the South Asian region, Pakistan has preferential trade agreements with Iran, Indonesia and Mauritius as well as a transit trade agreement with Afghanistan. Pakistan is also a member of the South Asian Free Trade Area (SAFTA).

The World Bank has described Pakistan as 'having important strategic endowments and development potential' and its economy as 'resilient'. In 2014, the country's progressive economy grew by 4.7% on an annual basis – according to the World Bank – showing steady improvement from the 4.4% annual growth experienced the year before.

Sri Lanka and Pakistan have strong commercial and bilateral ties and the FTA between the two nations has been operational for over 10 years – since June 2005. From Rs. 6,851 million in 2003, Pakistan's exports to Sri Lanka grew to Rs. 48,942 million in 2013. Sri Lanka's exports to Pakistan grew from Rs. 3,488 million in 2003 to Rs. 10,741 in 2013.