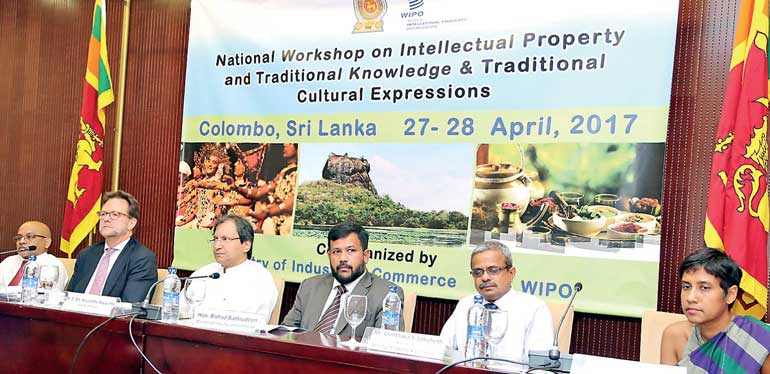 From Left: Additional Secretary of the Ministry of Industry and Commerce M.A. Thajudeen, Director of the Traditional Knowledge (TK) Division of WIPO Wend Wendland, Sri Lanka's Permanent Representative to the UN in Geneva Ambassador Ravinatha Aryasinha, Minister of Industry and Commerce Rishad Bathiudeen, Secretary to the Ministry of Industry and Commerce Chinthana Lokuhetti and Dr. Avanti Perera of the Attorney General's Department
Crucial first two-day Colombo stakeholder meet a success with groundbreaking deliberations
30 leading SL professionals & experts rally to secure Traditional Knowledge and Traditional Cultural Expressions
Taskforce and policy doc next
'Let's move with speed, together' - Bathiudeen
Traditional Knowledge and Traditional Cultural Expressions vital topic in current global IP discussions
'WIPO unveiled many opportunities for SL' - Ambassador Aryasinghe
With a cross section of native professionals, Sri Lanka commenced work on its first-ever IP of Traditional Knowledge national policy on 27 April in Colombo.

The undertaking was immediately infused with a declared will to move ahead speedily and wrap it up without delay by the Cabinet Minister who is in charge of the country's IP sphere.

"I call for a speedier and collaborative finalisation of the draft IP of Traditional Knowledge national policy. This undertaking involves many government departments, ministries and other stakeholders. I want all stakeholders to understand that this is an urgent task and more importantly, call them to move together in this," stressed Minister of Industry and Commerce Rishad Bathiudeen on 27 April at the launch of the two-day National Workshop at the BMICH to discuss a draft Sri Lanka National Policy of IP of Traditional Knowledge and Traditional Cultural Expressions (TK&TCE), organised by his ministry in collaboration with the World Intellectual Property Organization (WIPO).

Minister Bathiudeen, who observed that the Unity Government has clearly comprehended the relevance of intellectual property rights as it works towards transforming Sri Lanka into a knowledge economy, added: "Once we have a clear vision through the national policy we can then look at other measures to protect and foster our Traditional Knowledge (TK) and Traditional Cultural Expressions (TCEs). These I hope will include laws that can be formulated and passed by Parliament in the near future."

The nascent two-day event brought over 30 national stakeholders in TK&TCE together for the first time. These stakeholders were taking part having already benefitted from the expertise of WIPO's TK&TCE international experts who conducted an international level seminar backed by Group of Fifteen (G15) countries on 24 and 25 April in Colombo themed 'National Policy drafting on Traditional Knowledge'.

The stakeholders who participated in the 27-28 April National Workshop noted that the absence of a national policy in Sri Lanka has been a long-felt lacuna and resolved to produce a draft policy document in the near future.

They called on the Ministry of Industry and Commerce to constitute a taskforce on TK&TCE to see the process through. It is expected that once the national policy is endorsed by the Cabinet of Ministers it will pave the way for many measures, including legislation, which will protect the IP rights associated with Sri Lanka's TK&TCE. Addressing the meeting, Sri Lanka's Permanent Representative to the UN in Geneva Ambassador Ravintha Aryasinha noted that as part of the GOSL-WIPO 10 Point Action Plan launched in 2013, the Sri Lanka Mission in Geneva secured WIPO support for the country to work on a national policy on TK&TCEs in 2016. "I join Minister Bathiudeen to stress on a collaborative and a speedy approach to finalise this national effort," said Aryasinha.

"Besides sending foreign experts to support the G15 and national seminars on the subject, WIPO has provided opportunities for five Sri Lankan officials from diverse backgrounds - the Ministry of Foreign Affairs, Ministry of Environment and Mahaweli Development, Department of Ayurveda, Attorney General's Department and Ministry of Industry and Commerce - to develop their respective expertise in this area through participation at international meetings in Geneva and at a G15 workshop in Algeria. TK and TCEs are a vital subject under global discussion. Developing countries have the most to gain through a regime which recognises intellectual property rights and values the knowledge passed down from generation to generation in their respective countries, but they also stand to lose the most if they fail to do so," he added.

The WIPO team to Sri Lanka was led by WIPO Assistant Director General Ambassador Minelik Alemu Getahun, the highest ranking WIPO official to visit Sri Lanka since the official visit of WIPO Director General Dr. Francis Gurry in November 2013.

WIPO Ambassador Getahun also called on Minister Bathiudeen at his ministry and met with Ministry of Foreign Affairs Secretary Esala Weerakoon, where they mutually assessed the progress made under the 10-point action plan, identified priority areas and renewed commitment to the speedy implementation of the plan.

The Secretary to the Ministry of Industry and Commerce Chinthana Lokuhetti and Additional Secretary of the Ministry M.A. Thajudeen joined WIPO officials during their call on Bathiudeen. Both Ambassador Aryasinha and the Head of the G15 Secretariat Gihan Indraguptha, who facilitated the crucial G15 and WIPO missions to Colombo from Geneva, also joined the intensive discussions held at the ministry offices in Colombo.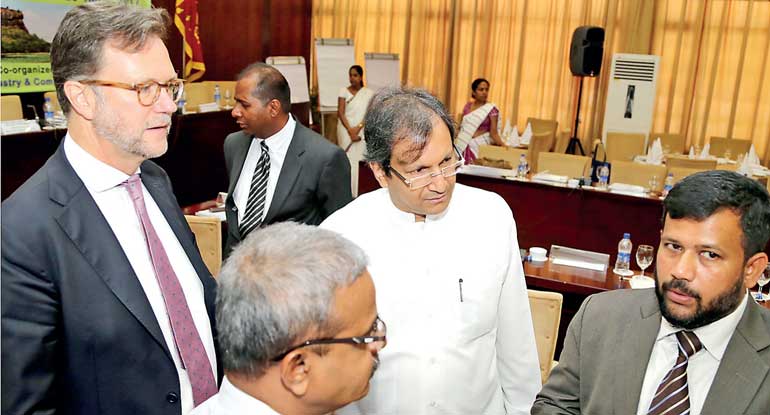 Director of the Traditional Knowledge (TK) Division of WIPO Wend Wendland (far left), Secretary to the Ministry of Industry and Commerce Chinthana Lokuhetti (second from left, foreground), Head of the G15 in Geneva Gihan Indraguptha (second from left, background), Sri Lanka's Permanent Representative to the UN in Geneva Ambassador Ravinatha Aryasinha (second from right) and Minister of Industry and Commerce Rishad Bathiudeen (far right)