MTI's India Country Representative and member of the MTI Sri Lankan Board, Subash Bidare is visiting Sri Lanka from 23 June for a week-long roadshow with top corporates to explore market entry solutions to India.

The purpose behind his visit is to help Sri Lankan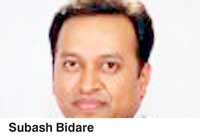 corporates take that leap across the Indian Ocean. He intends to do so by demonstrating that the leap required is less daunting when broken down into basic steps; first understanding the potential of the Indian market for the Sri Lankan corporates/their products and services is important, followed by envisaging and developing a clinical market entry strategy and implementing these strategies is the essence of making a successful entry to India.

"India is a large market not just of consumers, but also a market of vendors, suppliers, support services and talent. Therefore there is no shortage of opportunities. However India can be seen as difficult with its myriad laws and regulations changing from state to state, but for a business that can leap this with the help of services like what MTI Consulting provides India can be a very rewarding market," said Bidare, prior to his visit to Colombo.

"I'm genuinely excited with Subash's visit to Sri Lanka, especially at this point of time where the two nations inter country relations have significantly improved. I believe there is massive scope in India purely by the market size and market proximity that holds true for the Sri Lankan Corporates," said Hilmy Cader, CEO MTI Consulting.