'idea2fund', the venture challenge platform powered by MTI Corporate Finance has shortlisted 60 entry applications for the next round of concept presentations on 26 and 27 March at the Hilton Colombo Hotel.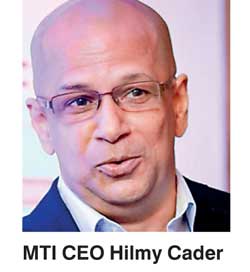 The task of shortlisting entry applications was a tough one given the overwhelming response to the first wave of the 'idea2fund' platform which saw almost 250 entry applications being received. Out of the 250, MTI's panel of judges internally reviewed each application objectively over a set criteria several times before managing to shortlist 60 ideas for the next round.

Interestingly, ideas were received across all the domains from agriculture to education, ICT and Tourism. This is reflected in the breakdown of the domains of the shortlisted applications: 22% (ICT), 7% (Agriculture), 7% (Education), 7% (Retailing), 7% (Social Enterprises), 5% (Engineering), 5% (Financial Services), 3% (Healthcare & Personal Care), 3% (Logistics), 3% (Professional Services), 3% (Tourism), 2% (Fashion), 2% (Energy) and 25% (Other Ventures).

The next round, concept presentations, would be an opportunity for the shortlisted entrepreneurs to present on the concept of their idea. The presentations would cover in effect a summarised version of their entry application with the key points being highlighted with a Q&A session for the judges to fully appreciate the idea. The judging panel for the concept presentation would be MTI's International Consultants including MTI Consulting CEO Hilmy Cader.

"I'm genuinely excited to meet the entrepreneurs of tomorrow during the two days of the concept presentations. From the entry applications, we have seen some diverse and disruptive ideas and it would be interesting to see the life behind these ideas. Likewise it would be great opportunity for the shortlisted entrepreneurs to be challenged and to receive constructive feedback going forward," said Cader.

MTI Corporate Finance is the corporate finance arm of MTI Consulting, a boutique strategy consultancy with a network of associates across Asia, Africa and Middle East. MTI Corporate Finance provides a comprehensive range of services, including due diligence, feasibility studies, funding new businesses or capitalisation of existing ones – from IPOs to private placement facilitation, M&A facilitation, and advisory on governance, compliances and risk management.