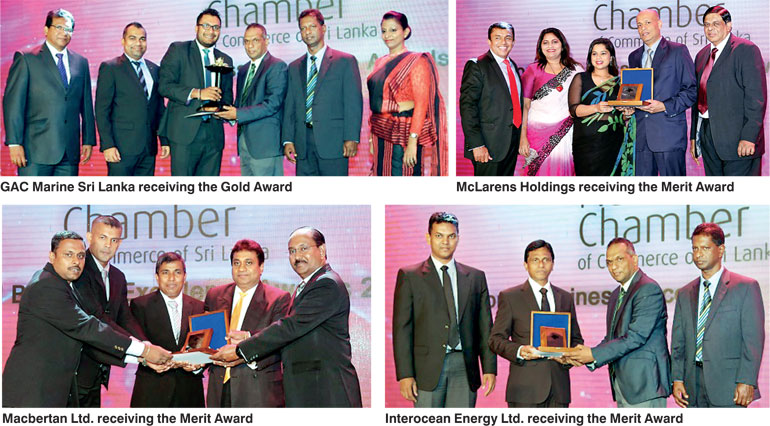 McLarens Group won several awards at the National Business Excellence Awards (NBEA) 2016 which was held on 30 November at the Grand Ballroom of the Colombo Hilton Hotel.

The NBEA is an annual event organised by the National Chamber of Commerce with the objective of recognising and rewarding organisations that have excelled in all-round performance. Companies are adjudged on excellence in areas such as Corporate Governance, Capacity Building, Performance Management, Global and Local Market Reach, Corporate Social Responsibility & Environmental Sustainability and Business and Financial Results.

GAC Marine Sri Lanka was crowned as the Gold Award winner for the second consecutive year under the Shipping and Shipping-related Services Sector. Interocean Energy Ltd. contested in the Shipping and Shipping-related Services Sector for the first time and was presented the Merit Award. Macbertan Ltd. secured the Merit Award in the Manufacturing (Other) Category. McLarens Holdings Ltd. was presented the Merit Award in the strongly contested Conglomerate Sector being the only non-public limited company to be awarded in the category.

Since its inception in 1944 with shipping and related services, the McLarens Group has enjoyed a long and illustrious place in Sri Lanka's maritime industry. By partnering GAC, a world leader in providing shipping and maritime services, the McLarens Group has gone from strength to strength and affirmed its place in the maritime industry by becoming the leading shipping agency house in Sri Lanka.

McLarens has also excelled in the bunkering market through its bunkering company, Interocean Energy, and owns the largest fleet of bunker barges in Sri Lanka.

Macbertan, the group's manufacturing arm, pioneered the manufacture of expanded polyethylene foam products and polyethylene air bubble sheets in Sri Lanka and has been marketing its products under the brand names of McFoam, McFoil, McFoil Ultra and McWrap. Years of commitment towards development and growth have firmly anchored the McLarens Group as a diversified conglomerate with specialties in shipping and marine services, logistics, lubricants, oil and gas, bunkering services, automotive distribution, manufacturing, hotel services and property development.

"We are proud to be recognised for business excellence in the sectors we operate. We would like to thank our entire staff for their hard work over the years which has helped place McLarens as a leading conglomerate in the country," said McLarens Group of Companies Joint Group Managing Director Shehara Jayawardana.