MasterCard representative Natalie De Silva, DGM Marketing & Card Products Nalaka Wijayawardana, DGM Retail Banking Naleen Edirisinghe, other winners and staff members of Pan Asia Bank
MasterCard recently launched a special incentive scheme for Pan Asia Bank staff members to support the bank's credit card canvassing initiatives.

This initiative, titled "Sell your way to a fantastic season" offered valuable holiday packages from Amaya Hotels and gift vouchers to top performing staff members during the promotional period.

Pan Asia Bank offers a range of MasterCard products with interest rates as low as 19.75% and allows customers to transfer other bank credit card balances at interest rates as low as 15.75%.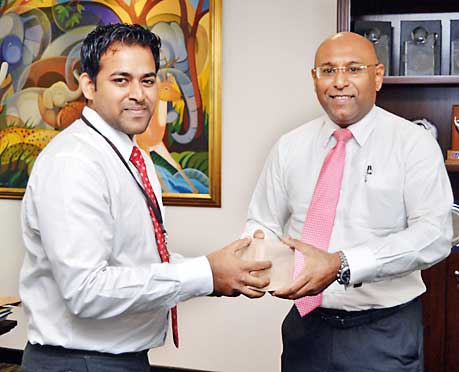 Director/CEO of Pan Asia Bank Dimantha Senevirathne is seen handing over a gift voucher to one of the winners Gihan De Silva of Pettah branch