Finance Minister Ravi Karunanayake says that Sri Lanka is gearing up for a significant economic transformation in the next one and a half years. The minister says that already plans are afoot and changes are been made to increase economic competitiveness and growth. New strategies, both mid-term and long-term will be unveiled to support production and FDIs.

He made the above comments delivering a guest lecture on the topic 'Economic Policy of Sri Lanka and the Way Forward' at the Defence Services Command and Staff College at Sapugaskanda.

Minister Karunanayake went on to say, "Sri Lanka is navigating the battered economic ship to calmer waters. Although there is much turbulence we are confident of taking it to safer waters. The 2016 budget provides an insight into the mechanics we intend to adopt in this endeavour."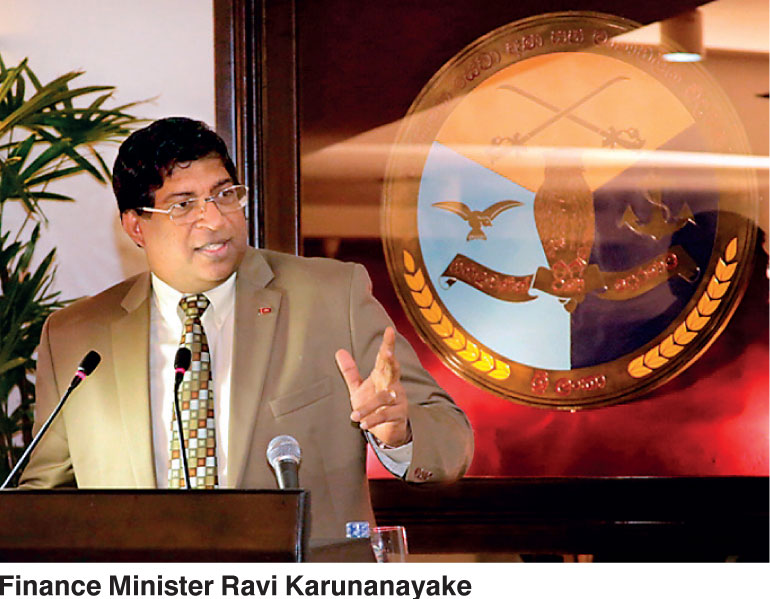 "I'm sure all of you know, on 8 January 2015 the people of Sri Lanka ushered a new political order and with it a new economic path. Today the most pertinent question is how we are going to resurrect this battered economy and take it to greater heights. We cannot keep blaming the past. People elected us and rejected the past rulers as they were dissatisfied with them."

The Minister further added, "You ended a 30 year old war. Now we are facing the economic war. The past rulers failed to successfully complete it and that onus is on us now."

"The past sins need to be corrected and it has to be done with the least amount of pressure on the people. When we got elected in January 2015, we had to take swift measures to rectify mistakes and ease the burden on the people. That was done in a hundred day program. We made salary increases to public servants, brought down the prices of essential consumer goods. These measures did not impact the budget deficit in any way. Then we thought the budget deficit was Rs. 7.1 trillion but now we have realised that this is almost Rs. 8.9 trillion. The reason behind this is because there was certain unrecorded expenditure. About Rs. 1.6 trillion in spending have not been recorded anywhere. I have to state that expenditure on war has been properly documented but this is not the case when it comes to the monies spent on certain infrastructure development. Monies have been extravagantly spent for certain projects which have been done to make some people popular."

The Minister went on to say, "A budget is an income and expenditure statement of the Government. Here we have to think of ways and means to bridge the budget deficit. A very salient factor is efficient tax collection. But I have to state that this is a most difficult task."

The Minister said that the Government was confident of steering the country's economy towards safer waters and ushering all-round growth within the next five years.

Explaining how the Government was going to achieve this task, the Minister stated, "First we have to increase the Government's revenue. Our task in this regards is more challenging as we have to do this at a time when there is a global economic meltdown. For the first time China has devalued its currency by 11%, India has devalued its currency by 15%. Still we import 68% of our goods. In this backdrop what can little Sri Lanka do? But still we have not allowed this burden to be felt by the people."

"Strengthening exports is one of the major areas when ensuring overall economic growth. However when comparing with our traditional exports such as tea, rubber and coconuts other exports such as garments, ceramic goods and footwear have not come up to expected levels. But we can be satisfied with the achievements made by some in the services sector."

"When I was in Singapore for an investment conference, I mentioned this and they came up with an interesting reply. We use Toyota cars and wear seat belts for security purposes and alarms go off when met with an accident. These sensors are manufactured in Sri Lanka, they said. What they said was many famous international companies come to Sri Lanka and make some of their products here and take them back. We have to focus in this area. We can bridge the deficit which I was speaking earlier if we get more foreign revenue."

"We believe that we can achieve 6.7% growth in the next couple of years. If you are going to achieve that, we need a capable labour force. Today we have 2.2 million people working overseas. This is our talent, our resources; they earn an average salary of around $ 300 per month. If we are to keep them here we need to pay them a competent salary. This why we increased public servants salary by Rs. 10,000 as soon as we came to power."

The Minister in conclusion noted that everybody had a responsibility to contribute positively to these endeavours which are aimed at socio-economic growth.

The Commandant, Deputy Commandant, Chief Instructors of Army, Navy and Air Force Wings, Brigadier Coordinating, Faculty Members, Coordinating Wing Staff and the Student Officers of DSCSC Course No 10 with their spouses attended the event.

The Commandant Maj Gen Udaya Perera is the head of the Defence Services Command and Staff College. In this occasion more than 200 local and foreign military offices participated.