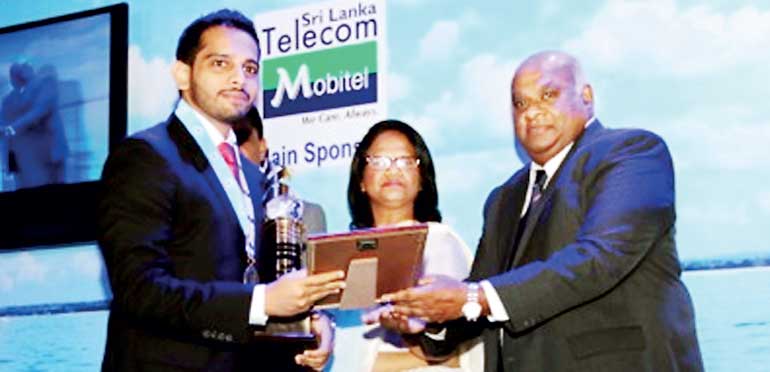 Macksons Paint Industries Ltd., the country's largest paint exporter was adjudged the best in their category at the 23rd annual NCE Export Awards 2015, which was concluded recently at Hilton Colombo. Macksons Paint Industries reached the helm at the event, winning the Gold Award (Medium Category) for chemical and glass sub sector of the Industry Sector.

The award ceremony was organised by the National Chamber of Exporters (NCE) to recognise the excellence of Sri Lankan exporters who have ventured onto explore new horizons and conquer the international arena. It was graced by Ambassador and Head of the EU Delegation in Sri Lanka David Daly, the guest of honour of the evening, and Minister of State for International Trade Sujeewa Senasinghe and Deputy Minister of Foreign Affairs Harsha De Silva, who participated as special guests.

Macksons Holdings Chief Executive Officer Shimmer Milfer Makeen represented the company at NCE awards and accepted the Gold Award, which is yet another astounding victory for Macksons Paints. As a company that constantly strives to carry forward the country's name by introducing quality products and effective paint and surface coating solutions, Macksons Paints has marked their footprint across the world. Mackson's premier brand of paints – Multilac is exported to Maldives, Trinidad, India, Myanmar, Pakistan and Middle East with the latest addition being the Seychelles.

The expansive product range of Macksons Paints include Decorative paints, Water proofing range, Wood care range, Auto paints and a range of Weather Shield paints. As such, Multilac Colourbank, Multilac Platinum, Ital Wood, Multilac Auto, Micron and Mitsuko are some of the company's most popular brands.

Commenting on this achievement, Macksons Holdings Chairman Milfer Makeen said, "Winning the award for the second consecutive year is a great achievement. As a true Sri Lankan business entity we have gone beyond boundaries to bring global recognition and pride to our motherland. This proves that our products are recognised and well accepted internationally where the competition is much higher and brings the much-needed foreign exchange to our country. He also emphasised that Multilac's achievement is mainly based on its quality and innovation."

Given their tremendous efforts to identify and develop overseas markets for Sri Lankan products, Macksons Paint Industries received the Gold Award for Exports in 2015 and for the year 2014 as well. Multilac has a dealer network of more than 4,000 in Sri Lanka and has been at the forefront of the paint and surface coatings industry for the past 33 years.

It is also the first paint brand in Sri Lanka to have obtained the Green Label Certification. Further due to the strict and stringent quality criteria that are adhered to during production, Multilac has also received the Quality Management System (QMS), Sri Lanka Standards (SLS) and the ISO 9001:2008 certifications as well.

With an emphasis on research and development, Multilac's research team works closely with leading chemical giants in the world.