The Republic of Lithuania opened its honorary consulate in Sri Lanka with R.M. Manivannan, Chairman of SupremeSAT and Owner of Supreme Global Holdings taking over as the Honorary Consul.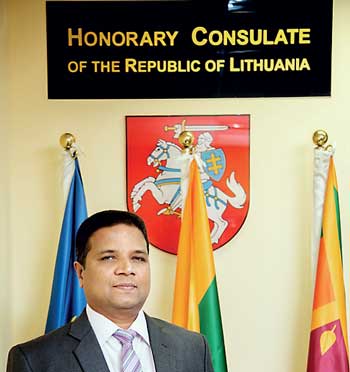 Manivannan is known to be a big time private investor in emerging markets and has established large scale mining assets in many parts of Africa including Mauritania, DR Congo, Uganda, Madagascar and Kenya. He has since made successful investments in the space industry starting with SupremeSAT in Sri Lanka and other Silican Valley enterprises including ExactFarming Inc.

Lithuania is a member of the EU, NATO and World Trade Organisation. The country also assumed a non-permanent seat on the UN Security Council in January 2014 and joined the Eurozone in 2015.

The consulate will be located at Level 33, West Tower, World Trade Centre, Colombo 01 and will provide renewed impetus to the strong bonds between Sri Lanka and Lithuania.

Commenting on his appointment R.M. Manivannan said he would strive to promote investments, trade/cultural exchanges and tourism between the two countries. He added that the consulate will assist Sri Lankan nationals travelling to Lithuania for leisure or business supporting them with the necessary 'Schengen' – EU Entry visas and guidance. "I am happy to represent Eurozone's fastest growing economy. My aim is to present Lithuania to Sri Lankans as a launching pad to the EU. The forthcoming FTA between EU and USA too is an opportunity the Sri Lankan businesses should try to exploit," he said.