As one of the largest backward integrated brushware manufacturing facilities in South-East Asia and Sri Lanka's leading brushware and filament exporter, BPPL (Beira Parawood Products Ltd), also known as the Beira Group, is pioneering its market segment with strong export performance. The company has already established a strong track record as a high quality brushware and filament supplier to the US, Canada and Australasian markets. Operating in a niche segment, BPPL is now the preferred supplier for leading global brands such as Oates, Grainger, and Rubbermaid.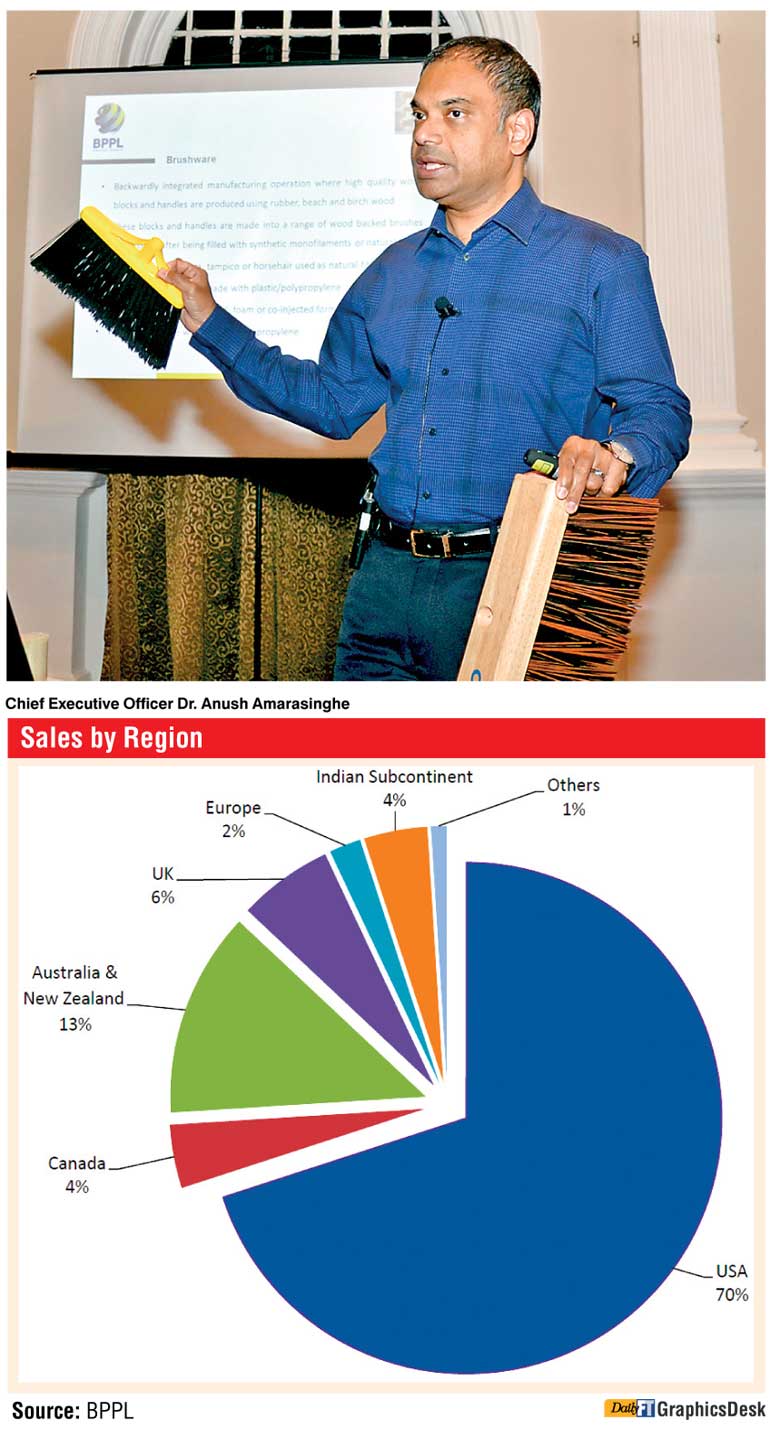 Upsurge in Exports

The company has been recording a strong export performance year after year, and remains focused on expanding its presence in new and emerging markets apart from deeply entrenching its presence in established ones. BPPL's reach spans the entire globe, with 70% of its products being exported to leading brands in the US and 13% to Australia and New Zealand. Its products are also present in Canada, Europe, the Indian subcontinent and in other countries. Some of the key buyers that the company caters to, include large-scale retailers such as Home-Depot, Rona, Lowes and Mitre-10, providing a door-to-door service model.

BPPL Chief Executive Officer, Dr. Anush Amarasinghe, commented: "BPPL is being led by a vision to push the frontiers of brush making through research and innovation, underpinned by a strong sense of ethical responsibility and sustainable manufacturing. As a company, we are constantly thinking about how we could do things better, more responsibly, in a more meaningful manner and thereby add value not only to our customers but also to the knowledge base of the country. We have ambitious plans chalked out for BPPL and are well on our way to achieving them. Sri Lanka is a nation on the march towards prosperity and we want to be positioned as one of the proud local companies that showcase local talent and skills to the world."

The company manufactures environmentally-friendly cleaning products for the professional, commercial and household markets, spanning industrial standard requirements to domestic household needs. The company operates five state-of-the-art factories and warehouses spread across 210,000 sq ft.
Manufacturing Facilities

The company's wood processing factory produces approximately 11 million units per month and it has its own saw mill and kiln drying facilities. Its recycling plant converts waste Polyethylene Teraphthalate (PET) bottles into plastic chips, which are then converted by its filament factory into filaments for brushes. Another facility produces Poly Propylene (PP), (Poly-Butylene Teraphthalate (PBT) and Nylon filaments. BPPL also has an in-house facility to hackle and mix natural fibre. The company's brush factory produces 10 million pieces per month including plastic brush backs (solid, foam and co-injected) and completes the final stage of combining output from the other four factories, using high speed computerised European machinery. A mop making line was also commissioned recently, as was a washing plant, adding to the above recycling facility where around 75 tonnes of post consumer bottles are washed each month and crushed as input to the extrusion lines.

Backward Integration

BPPL has embedded valuable backward integration into its operation, which gives it a clear competitive advantage. Its factories use raw materials such as rubber wood, recycled plastics, cotton yarn, coco and palmyra fiber, which are materials sourced from Sri Lanka itself or from neighbouring countries.
Sustainable Manufacturing

Sustainable manufacturing is embedded in every stage of its manufacturing process. BPPL is focused on locally produced raw materials such as natural wood and fiber. The company has pioneered the extrusion of fiber from post industrial and consumer PET water bottles which are discarded by homes and commercial establishments. This fiber is then used to make brush filaments, thereby giving new purpose to waste, which would have otherwise clogged landfills. Approximately 900,000kg of plastic waste is recycled to make filaments for brushes and plastic backing for brushes annually.

The factories also use recycled paper packaging to discourage use of polythene for packaging. Significantly, US Building Council Leed 'green building' guidelines are followed in all its factory buildings where aspects such as the use of natural light, rainwater harvesting, minimising energy usage etc. are enforced.

The company adheres to Forest Stewardship Council (FSC) certified wood sourcing for select buyers which certifies that it sources from suppliers who in turn source in an environmentally-friendly, socially responsible and economically viable manner. FSC certification ensures that a new tree is planted for each tree that's uprooted. Dust control measures, rainwater harvesting and water treatment plants are other ways in which BPPL minimises harm to the environment while conserving water to the greatest extent possible.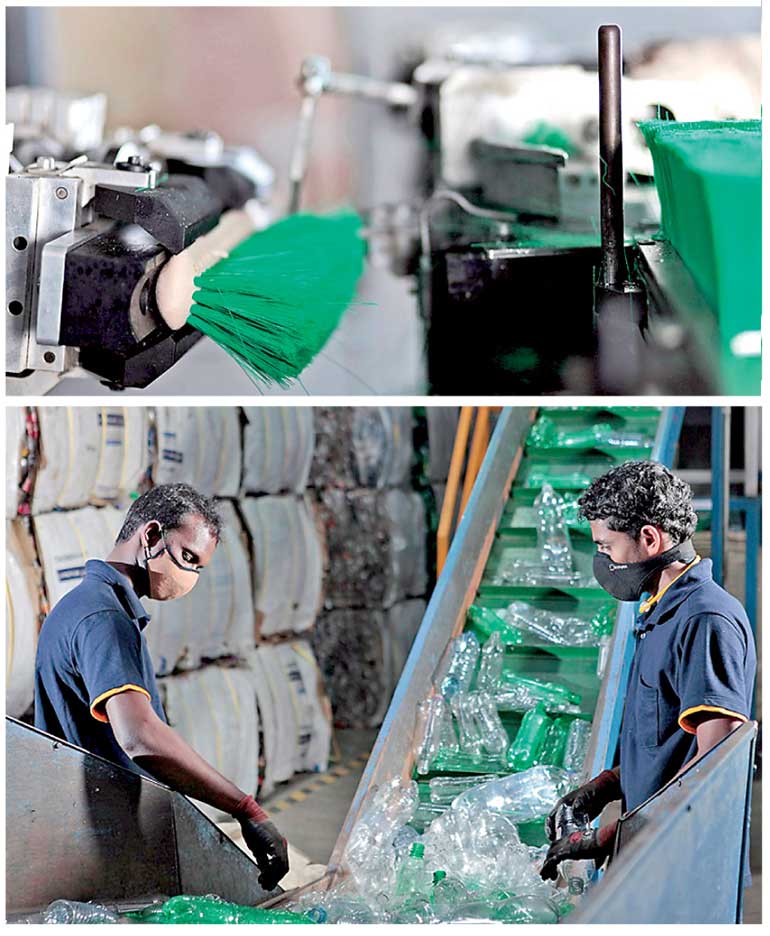 Future Plans

BPPL is forging ahead to explore avenues for market extension to new and emerging markets with a strong emphasis on Research and Development, and is poised at the forefront of filament technology. The company is well-positioned to further diversify into household products with its own brand labels within the Asian region. Leveraging on its expertise, the company is engaged in product extension and plans to introduce related household products such as rubber mats, paint brushes etc. for distribution through its global network.

Established in 1986, the Beira Group manufactures a range of high quality, durable cleaning products for both professional and household applications. Leveraging on its sustainable manufacturing and vertically integrated processes, coupled with commitment to consistent quality, on-time delivery, reasonable pricing and flexibility renders it the preferred supplier for major distributors and retailers of cleaning tools worldwide.