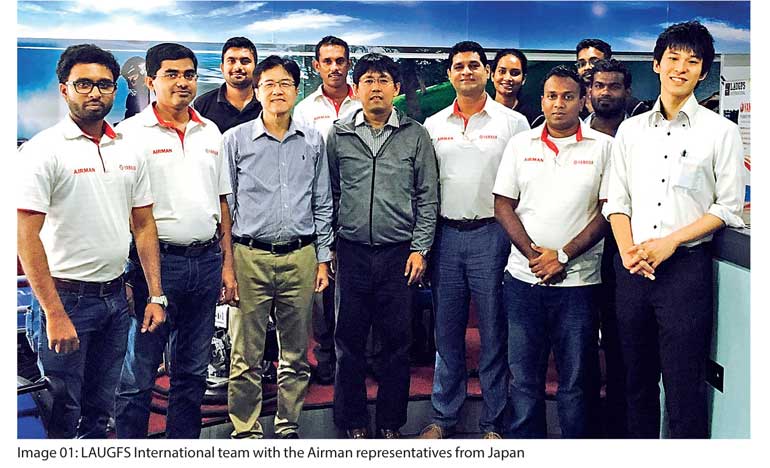 LAUGFS International Ltd., the trading arm of LAUGFS Holdings, recently hosted a one day workshop for its Airman Generator dealers and service agents including its sales, operations and service teams, where individuals were exposed to an outstanding training program exclusively with Airman Japan representatives.

The workshop covered an array of topics including crucial areas such as servicing and maintenance of generators, energy optimisation and power requirement analysis. The objective of the training and workshop is to cascade the expertise of providing and maintaining the ideal generator for customers through a professional service team. The workshop was conducted by Japanese Airman officials including Senior Manager of Customer Support and Service Takashi Shibuya, Assistant Manager Sales for Airman Asia Yusaku Endo and Managing Director of Airman Asia Tony Lin.

The training session focused on enlightening professionals on technical issues, products and services including sales training, which in return would enable professionals to provide an exceptional service to the end customer. The need for professionals in the industry has been felt as a strong requirement in the light of choosing the ideal kind of product and service as per the need of the client. Since Airman Generators are technical products, the intervention of a professional when choosing the right product or service is crucial in order to prevent customers from being misguided and preyed upon by non-professionals in the industry. The training workshop is yet another giant leap forward by LAUGFS International in trying to create better avenues for customers, where professionals with hands on experience are ready to cater to clients with world class products and services.

Being one of the largest manufactures in Japan for generators, compressors and scissors lifts, Airman is today recognised in the industry as one of the popular and reliable brands synonymous with power products. As the authorised and sole distributor for Airman Generators in Sri Lanka, LAUGFS International is the one-stop destination for those in pursuit of genuine power solutions. The company is responsible for the distribution of original Japanese Airman Generators ranging from 10KVA to 555KVA which is a quintessential product range for industrial and commercial purposes. These generators are ultra-quiet which makes them ideal for urban environments.

Offering a wide array of power products to choose from, LAUGFS International provides its customers an opportunity to have all their products and services served under one roof. LAUGFS International has a well-earned reputation for showcasing international brand names such as Yamaha, Airman, Fujitsu and Denso. "At LAUGFS International, we believe in maintaining stringent policy standards pertaining to the quality of our products and services. We are committed to ensure that our valuable customers are guaranteed optimum customer satisfaction," commented LAUGFS International Director/CEO Wasantha De Silva.

LAUGFS Holdings is one of the largest diversified business conglomerates and a trusted name in Sri Lanka. Founded in 1995, LAUGFS has expanded across more than 20 industries, both local and overseas, establishing a strong presence as a leader and pioneer in the Power and Energy, Retail, Industrial, Services, Leisure, Logistics and Real Estate sectors. With over 4,000 employees and an annual turnover exceeding Rs. 28 billion, LAUGFS continues to expand and empower millions as a trusted Sri Lankan brand.