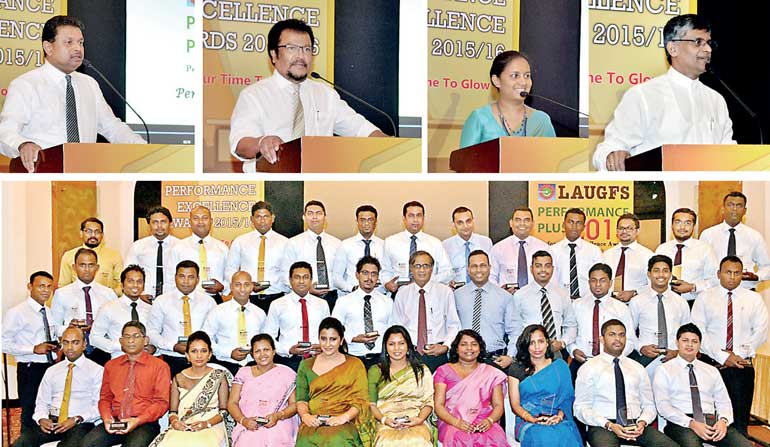 The diversified Sri Lankan conglomerate LAUGFS Holdings Ltd. recognised and rewarded the outstanding contribution of 37 employees across the group recently. They were felicitated at the LAUGFS Performance Excellence Awards ceremony that was held at the Taj Samudra Hotel, Colombo.

The top performers received their accolades in the presence of LAUGFS Holdings Group Chairman W.K.H Wegapitiya and its Group Managing Director Thilak De Silva. Senior Management from across the group were also present at the event along with several other distinguished invitees.

Exploring the deeper facets of leadership, the respected management consultant, author and speaker, Deepal Sooriyaarachchi, also delivered an inspiring speech titled 'Towards a Brighter Future' at the ceremony, which became another invaluable highlight of the event.

The LAUGFS Performance Excellence Awards is a biannual event that rewards and encourages staff for their efforts to drive growth and success during the financial year. Their performances were assessed through three key criteria. These include, consistent delivery of superior results against the key performance indicators assigned for the period as well as championing process improvements by continuously challenging the norm. As an organisation with a true entrepreneurial culture, it also assess the level of innovation and initiative demonstrated by employees during the period in the product, process and technological spheres.

LAUGFS actively fosters a performance-driven culture, of which the biannual LAUGFS Performance Excellence Awards has become a key element, where employees are recognized and rewarded for their contribution to the group's success. Such a work environment ensures that LAUGFS Holdings continuously meets its HR vision 'Building a great team to make LAUGFS a great company'.

"An organisation's sustainability and growth largely depend on its people," remarked Group Chief Human Resource Officer Dulani Nissanka. "The high-performing employees within an organisation act as its enablers. Therefore it's imperative for an organisation to have a mechanism to identify, recognise and reward such individuals for their contribution."

"Our talent development team went one step beyond by building development initiatives for the award-winners, facilitating them to build a strong career with LAUGFS. Furthermore, in our journey to create a performance-driven culture, we believe these initiatives will encourage all our colleagues to set higher standards at work and to build a rewarding career," she further stated.

LAUGFS Holdings is one of the country's largest diversified business conglomerates. Founded in 1995, LAUGFS has expanded across 20 industries, both local and overseas, establishing a strong presence as a leader and pioneer in the power and energy, retail, industrial, services, leisure, logistics and real estate sectors. With over 4,000 employees and an annual turnover exceeding Rs. 28 billion, LAUGFS continues to expand and empower millions as a trusted Sri Lankan brand.