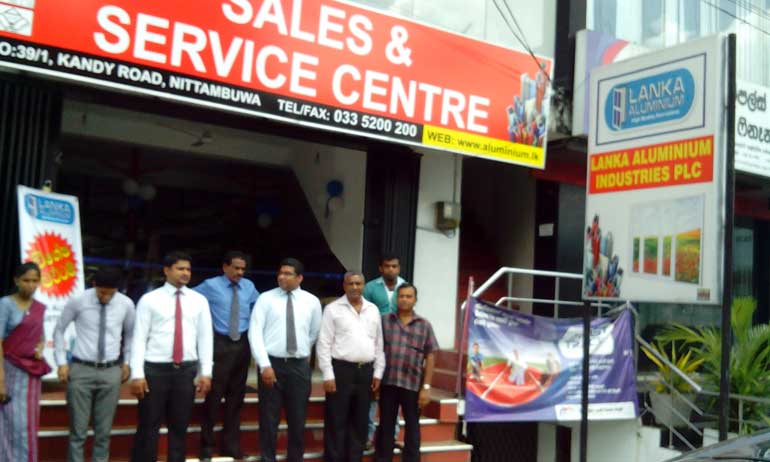 Lanka Aluminium Industries PLC – Sri Lanka's leading manufacturer and distributor of state-of-the-art aluminium fittings and solutions – opened their showroom and service centre in the bustling town of Nittambuwa recently. The opening was attended by senior officials from Lanka Aluminium and representatives of construction and interior design establishments in and around Nittambuwa.

"We have a wide range of doors and windows which are specifically designed to suit our environment and climate. We take precautions to ensure that there is no water leakage and offer provisions for insect screens which are very important for households especially considering the problem with dengue," said Lanka Aluminium Industries PLC Managing Director Dinal Peiris.

"One of the main reasons for opening our showroom outlets is to ensure that our customers get the opportunity to choose the most appropriate product and finishes for their requirement," he added.

In addition, Lanka Aluminium offers a wide range of services including designs, wind load calculations, training of fabricators, shop drawings and selection of appropriate accessories to make sure that your doors and windows work well.

Lanka Aluminium Industries PLC firmly believes that customers are one of their key stakeholders and hence moving closer to their vicinity and providing ease of access to products and solutions will benefit all of the construction industry stakeholders.

Lanka Aluminium PLC is a public quoted company established in 1986, and is Sri Lanka's premier manufacturer of aluminium extrusions which are used in the finest high-rise buildings. As the leader, Lanka Aluminium has a vision of setting high standards in the industry to take it to the next level. It is a member of the highly diversified Group which has a varied portfolio of manufacturing businesses including a system design facility, which enables them to tailor-make systems to suit varied customer requirements, fabricating and installing systems in high-rise buildings with their own proprietary designs hitherto not offered in the local market.