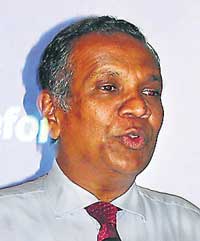 Gotabaya Dassanayake
Labour and human resources specialist Gotabaya Dassanayaka has been appointed to the Board of Acme Printing and Packaging Plc as an Independent Non-Executive Director.

Dassanayaka is an Attorney-at-Law and worked for the International Labour Organisation as Senior Specialist, Employers Activities for South Asia Region from 2007 to end February 2015. In this capacity he worked closely with national employers organisations in South Asia in relation to ILO activities and in strengthening the capacities of such organisations vis-à-vis their own organisational mandates.

Prior to joining the ILO, he worked with the Employers Federation of Ceylon (EFC) from 1979 and was the Director General/CEO from 2000 to 2006. While at the EFC he specialised in labour law and employee relations and had first-hand experience in dealing with key stakeholders on major labour issues at operational and policy level.

He has long and wide ranging experience in representing employer interests in tripartite fora (Government, workers and employers) at national, regional and international level.

Singapore-based Colvis Company holds a 27% stake in Acme Printing and Packaging Plc and Richardson Holdings owns a 19.4% stake.

With the latest appointment, the Board of Directors of Acme Printing and Packaging Plc comprises Hemaka Amarasuriya (Chairman), N.M. Chandaria, R. Seevaratnam, P. Chandaria, Kumar Jayasuriya, S. Kumar and G.K.B. Dassanayaka.