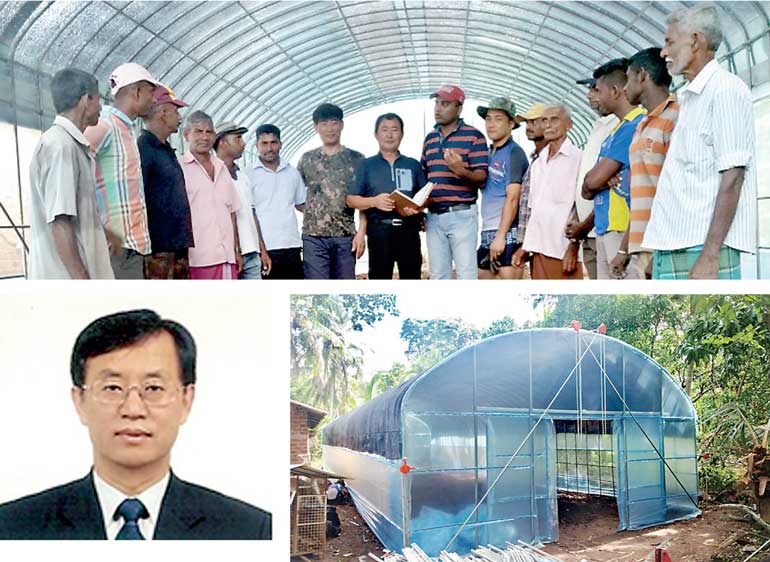 Dr. Byoung Choon Jang, the Director of Korea Program on International Agriculture (KOPIA) Centre has selected three "Onion Seed Production Model Farm Villages" in Anuradhapura, Mannar and Hambantota areas, to provide technical support to rain shelter and drying storage facilities. He recognised the need of such technical support to produce better onion seed, which consequently helps expand onion production in Sri Lanka.

According to him, a total of 238,512 tons of onion were consumed in Sri Lanka in 2015: Sri Lankan farmers produced 69,638 tons (29.2%), and 168,974 tons (70.8%) were imported. One of the main reasons Sri Lanka onion production is at a low level is the lack of availability of high quality seeds to local farmers.

In 2015, onion production recorded 16.5 tons per hectare in Sri Lanka, which is much lower than the production of 65.5 tons per hectare in Korea. If high quality seed is provided for local farms that cultivate onions, the productivity of this industry can increase up to 30 tons per hectare, he said.

In order to increase high quality onion seed production, technical support such as soil and fertiliser management, and disease and pest prevention is needed. It is also crucial to protect seeds from the rain during the blossoming season, which is the dry season. However, due to global climate changes, the recent dry season also experienced rain which damaged 95% of the onion seed harvest in 2015.

The KOPIA Sri Lanka Centre has established four onion seed drying storage buildings in the three model farm villages. Farmers share the buildings that occupy a total area of 200 square meters. Additionally, 2-hectare rain shelters have been made in 40 model farms (500 square meters per farm) in the villages, to facilitate the production of onion seeds during both the dry and rainy seasons.

The technical support affected by KOPIA will continue until December, 2017. The project aims to produce 12 tons of high quality seed from 120 model farms, on 15 hectares, in the three villages. To expand the areas of onion production and to promote participatory farming after the project, a farmer organisation was founded in each model farm, Dr. Jang said.

He has hosted two Korean experts who trained local farmers on rain shelter and drying storage installation technology in a model farm village in Anuradhapura from 10- 20 December.