With the best zonal distributor award at the Kelani Cables annual Distributor Convention (from left): Amila Fernando (Sales Promotions Officer – Mawathagama), Sanjaya Daluwatte (Zonal Sales Manager – North Central Province), Chaminda Waidyatilleke (Sales Manager – Distribution), Hemamala Karunasekera (Chief Finance Controller), A.K. Gunatilleke (Zonal distribution agent – Mawathagama), Mahinda Saranapala (CEO – Kelani Cables), Anil Munasinghe (General manager – Marketing), Channa Jayasinghe (Brand Development Manager) and Ralph Roshan (Sales Controller)
Kelani Cables held its annual Distributor Convention at Ananthaya Hotel in Chilaw with the participation of Kelani Cables PLC CEO Mahinda Saranapala, General Manager Marketing Anil Munasinghe, Chief Finance Controller Hemamala Karunasekera and managers of all departments.

Distributors operating around the island who have performed exceptionally well in 2014 received awards, certificates and cash prizes at the event.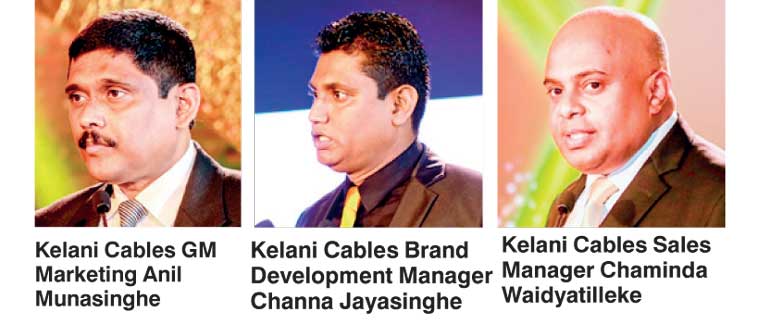 Best Distributor (Large, Medium and Small Scale) were recognised at the event. Chief Guest of the event Mahinda Saranapala said this award ceremony highlights the success story of Kelani Cables and the dedicated distributors who contribute towards that success.

"Award ceremonies of this calibre not only recognise the cream of distributors but also nurture unity among workers. This gives an opportunity for fellow workers to cheer and wish their peers who receive accolades. That is some sort of motivation for them too to excel in their work," said the CEO.

Large scale best distributor awards were received by:

1.A.K. Gunatilleke (Mawathagama)

2. Wimal Palitha (Gampaha)

3.Poorna Weerasinghe (Kelaniya)

4. Judith Devika (Kuliyapitiya)

5.R.M.G.B. Ratnayake (Kurunegala)

Medium scale section winners were:

1. K&D Holdings (Kelaniya)

2. M.M.M. Nazhar (Batticaloa)

3. J.J. Wijeratne (Matara)

4. R.D. Distributors (Nuwara Eliya)

5. A.K.I.T. Gunatilleke (Ambalangoda)

Small scale section recognition went to:

1. K.M.N.S. Kulatunga (Minuwangoda)

2. Nalin Chinthaka (Akuressa)

3. J.L. de Silva (Matale)

4. D.C.K. Jayakody (Puttlam)

5. Gihan Prasad (Badulla).

GM Marketing Anil Munasinghe expressing his views on the Distributor Convention and award ceremony held for the fourth successive year said, "Kelani Cables PLC distributors who were awarded today deserve the Lion's share of the credit for making our company Sri Lanka's number one brand in secure electrical and communication cables. Hence we joyfully spend two days with them every year like this appreciating their excellent services as a courtesy and also to motivate them. We go beyond award presentations to offer them with foreign tours with a view to encouraging them to perform even better in the coming years."

Kelani Cables Brand Development Manager Channa Jayasinghe said, "Kelani Cables brand name is known to every household in Sri Lanka. Not only quality of our products account to that success but also the dedication of our sales force and distributors. Hence this award ceremony is significant for all of them and also to our company."

Kelani Cables PLC is a one hundred percent Sri Lankan company serving the nation for 46 years manufacturing electrical and communication cables. The company achieved 'Super Brands' status in the electrical and telecommunication sector in 2008 for professional supremacy it demonstrated in the electrical and communication cables sphere.

In 2012, Kelani Cables PLC clinched the bronze award for the excellent business brand category at the SLIM Brand Excellence. It clinched gold at the SLIM Brand Excellence once again in 2013 for the same category. The company secured gold at the SLITAD People Development – 2013 award ceremony for the contribution it has made towards training and development of the work-force plus up keeping their welfare.

Kelani Cables PLC is the proud recipient of ISO 9000:2008 certification for quality, ISO 14001:2004 for better environment management, National Standards award and the gold winner of Taiki Akimoto 5S award.

In 2015 Kelani Cables PLC was conferred with the Asia's Best Employer Brand award. Kelani Cables was the sole organisation in the electrical and communication cable manufacturing sphere recognised for sustainable development at the National Green Awards in 2015. The company also bagged the SLIM Brand Excellence award in 2015.
Mahinda appointed to Kelani Cables Plc Board
Kelani Cables Plc CEO Mahinda Saranapala has been appointed to the Board of Directors with effect from 23 December. He will function in executive capacity as CEO/Director.

He was appointed as CEO of Kelani Cables in April 2011.

Mahinda is an entrepreneurial and management professional with 40 years of continuous advancement in managing many industries. He is also a change agent with a proven track record in improving productivity in around 60 companies using Japanese management techniques. He has a reputation as one of the best 5S practitioners in Sri Lanka with 12 of his clients who have won the prestigious Taiki Akimoto Gold award and several other national and international awards.

He is Chairman and Managing Director of M&S Associates, Management Consultants. He has previously served as General Manager/CEO at Finnpack Ltd., manufacturer and exporter of poly bags to UK, CEO at St. Regis Packaging Ltd., and Joint Managing Director/CEO at Phoenix Industries Ltd.

He holds a General Certificate of Education, and had successfully participated in Production Management Training Course, AOTS Nagoya, Japan, Program for Sri Lankan Entrepreneurs, AOTS Yokohama, Japan, TOPS Management Training for Presidents, MD/CEOs of companies AOTS, Tokyo, Japan, Advanced Training for Sri Lankan Entrepreneurs, AOTS, Nagoya, Japan, TPM facilitators training, AOTS, Chennai, India, Advanced training for consultants, Kaizen Institute Training College, Khandala, India and Training in Lean Management, Kaizen Institute, Ahmadabad, India.

Mahinda is a winner of the Plastics and Rubber Institute Merit Award for outstanding contribution made to the polymer industry in Sri Lanka, elected President of the Association for International Standards (2009 to 2010), President, Japan Sri Lanka Technical and Cultural Association - JASTECA (2010 to 2012) and was appointed as a Consultant of the Kaizen Institute, India and Sri Lanka.

With the latest appointment the Board of Directors of Kelani Cables Plc comprises of Chairman, Upali Madanayake, Deputy Chairman Suren Madanayake, CEO/Director Mahinda Saranapala, N.C. Madanayake, Dr. Bandula Perera and Dr. Ranjith Cabral.