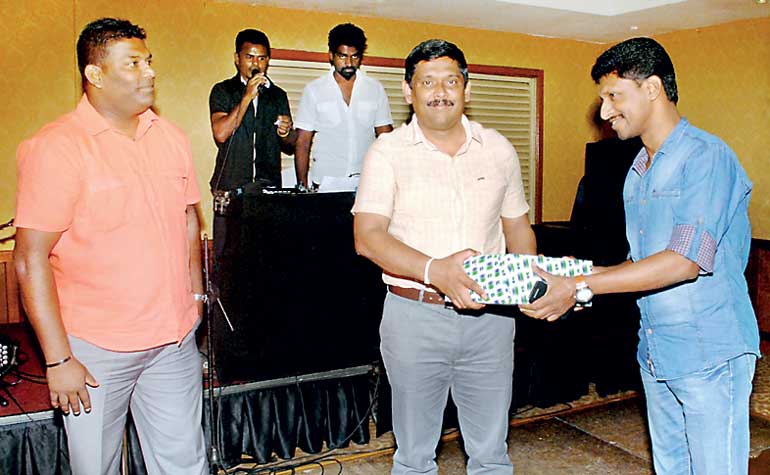 A sales agent receiving a prize from Kelani Cables General Manager Marketing Anil Munasinghe. Also present is Kelani Cables Assistant Sales Manager Gihan Fernando
Kelani Cables PLC Sri Lanka's number one brand in secure electrical and communication cables hosted a get-together of Colombo district welding cables sales agents at Kiribathgoda Clarion hotel.

Some 100 Kelani welding cables sales agents that represent Kelani Cables Colombo district sales agent; CIMCO Metal were invited for the event which was graced by Kelani Cables PLC General Manager Marketing, Anil Munasinghe.

Kelani Cables Assistant Sales Manager Gihan Fernando and Sales Promotion Officer Uddika Wijesinghe welcomed the invitees on behalf of the company.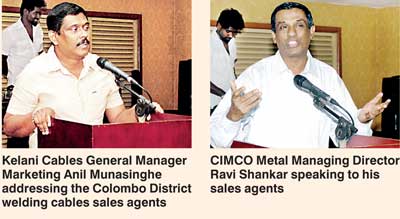 Kelani Cables General Manager Marketing Anil Munasinghe addressing the gathering said Kelani welding cables secured the biggest market share for welding cables in this country within six years. He said the company was able to achieve this feat because of its dedicated sales agents.

"Colombo District has the majority of companies and factories that use welding cables thus they contribute towards the major portion of our market share. Inferior quality welding cables are imported by some quarters to cater to this need. Kelani Cables imports copper that is derived from the finest copper-mines in the world to manufacture this product with highest standards. Our sales agents play a pivotal role in communicating this aspect to the prospective customers to build their confidence towards Kelani welding cables and converting it to sales. I pay gratitude to our Colombo district sales agents on behalf of Kelani Cables," said Munasinghe.

CIMCO Metal Managing Director Ravi Shankar commended the dedication and enthusiasm of his sales agents. "Our sales agents have clearly understood the impact made on total sales volume of Kelani welding cables via sales in Colombo. Thus I appreciate Kelani Cables PLC hosting this event to recognise this dedicated force of sales agents in Colombo," he said.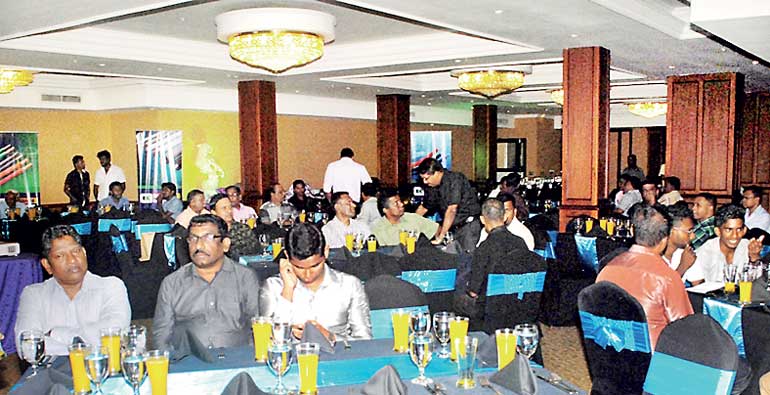 A fraction of the gathering at the Colombo District sales agents' get-together


Copper raw material to produce Kelani welding cables is derived from the finest copper mines in Australia and Egypt thus they are in line with certified standards. This finest copper is imported for the production of Kelani welding cables ranging from sizes; 16mm to 95mm that could be used for any sort of welding work done in this country.

Kelani Cables PLC is a 100% Sri Lankan company serving the nation for over four decades manufacturing electrical and communication cables. The company achieved 'Super Brands' status in the electrical and telecommunication sector in 2008 for professional supremacy it demonstrated in the sector.

In 2012, Kelani Cables clinched the Bronze award in the Excellent Business Brand category at SLIM Brand Excellence. It clinched Gold at SLIM Brand Excellence once again in 2013 in the same category.

The company secured Gold at the SLITAD People Development – 2013 award ceremony for the contribution it has made towards training and development of the work-force plus up keeping their welfare. Kelani Cables PLC is the proud recipient of ISO 9000:2008 for quality, ISO 14001:2004 for better environment management, National Standards award and the Gold winner of Taiki Akimoto 5S award.