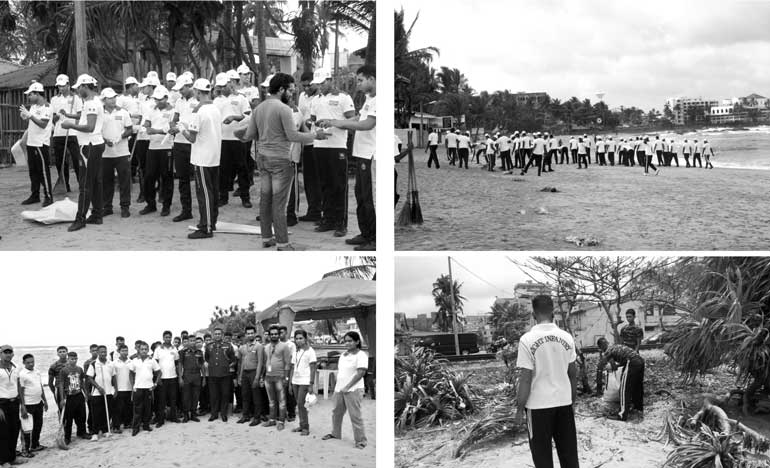 One reason for tourists to be interested in Sri Lanka as a tropical country is, that it owns a number of beautiful, clear blue beaches, and they are ideal spots especially for sports such as water surfing. Whale watching in Mirissa is one great experience one can get while in Sri Lanka, and to watch stilt fishing down South is another chance one may rarely see in another country. Sunbathing in the golden coast of Sri Lanka is a divine pleasure which any tourist will enjoy while being here. They are the natural resources which also contribute in bringing financial benefits to the country.

But due to various development projects, the growing population and the chemicals used for different purposes, the ocean surrounding Sri Lanka has been sadly polluted. This threat is increasing day by day. Many indisposable items are being collected each day through streams and lakes to the sea and beaches. Therefore there is a threat of the tourism industry being affected, including the fishing areas.

Thus there is a need of protecting all coastal areas and affiliated fields which gain a considerable income from the sea, and an awareness campaign and a procedure of involving the public in protecting these areas is very much needed. Under the advice of President Maithripala Sirisena, from this year, every Saturday of the third week of September up to Saturday of the fourth week of September, 'The National Marine Resources Conservation Week will be held each year in order to commemorate International Coastal Day'.

To mark this special occasion and also focusing on the importance for the tourism sector, a beach cleaning program was held by the Marine Environment Protection Authority (MEPA) under the Ministry of Mahaweli Development and Environment, in collaboration with the Sri Lanka Tourism in Bentota/Beruwala and Mt. Lavinia/Wellawatte beach areas. Above 100 participants showed their enthusiasm to keep the environment clean in this project. It was held from 7:30 a.m. to 1 p.m. on 19 September.

Along with the Marine Environment Protection Authority and Sri Lanka Tourism, Sri Lanka Navy, Sri Lanka Army and the Coast Guard Department also added their contribution.

"In order to maintain our pristine beaches, it is important to have a collaborative effort in keeping the environment clean," said Sri Lanka Tourism Promotion Bureau Chairman Paddy Withana.