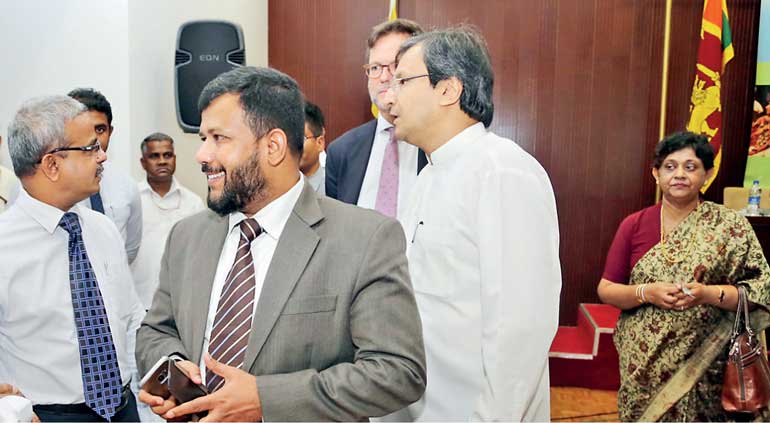 From left: Secretary to the Ministry of Industry and Commerce Chinthaka Lokuhetti, Industry and Commerce Minister Rishad Bathiudeen, Director of the Traditional Knowledge (TK) Division of WIPO Wend Wendland, Sri Lanka's Permanent Representative to the UN in Geneva Ravinatha Aryasinha and Attorney-at-Law Suganthie Kadirgamar at the launch event of the Sri Lanka Sessions of the

WIPO-backed TK&TCE Practices held at the BMICH yesterday
'Personally moved Cabinet Paper for Rs. 100 million' - Bathiudeen
Says Madrid accession achieved within 2 years of initial policy decision
'First decision on Madrid was made with our exporters' - Bathiudeen
Unveils first Traditional Knowledge session focused on SL at BMICH
'Leveraging WIPO for SL all the way from Geneva' - Ambassador Aryasinghe
No less than Rs. 100 million has been freed up for Sri Lanka's historic accession to the Madrid Protocol, slated to be completed by the end of this year.

Sri Lanka's accession to the Madrid Protocol is the biggest milestone in its Intellectual property history so far and it has been clinched in an unprecedentedly short period of two years from the time the policy decision was arrived at.

This achievement comes after years of intense background work on the country's IP and trademark rulebook by the Ministry of Industry and Commerce.

"Intellectual Property is vital for our businesses and economy to develop. We have been striving to get funds for the Madrid Protocol accession. Recently, we received the funds but then lost them since the allocations were unexpectedly returned to the Treasury," said Minister of Industry and Commerce Rishad Bathiudeen, under whose ministry the National Intellectual Property Office (NIPO) functions. "Thereafter I personally submitted a Cabinet Paper and managed to secure Rs. 100 million ($ 656,600) to move forward on our accession to the Madrid Protocol. We believe we will achieve accession by the end of this year," the Minister added.

Minister Bathiudeen was addressing the launch event of the two-day National Workshop on Intellectual Property (IP), Traditional Knowledge and Traditional Cultural Practices session, co-organised by the Industry and Commerce Ministry with Geneva's World Intellectual Property Organisation (WIPO), at the BMICH yesterday.

The session was joined by the Secretary to the Ministry of Industry and Commerce Chinthaka Lokuhetti, Sri Lanka's Permanent Representative to the UN in Geneva Ravinatha Aryasinha, Head of the G15 Secretariat Gihan Indraguptha, Director of the Traditional Knowledge Division of WIPO Wend Wendland, Additional Secretary of Ministry M.A. Thajudeen and Attorney-at-Law Suganthie Kadirgamar.

"We made a collective decision to proceed to the Madrid system in 2015 with the collaboration of our exporters. And then we started work on it. Our NIPO has also commenced activities based on an action plan and we note that NIPO has already commenced upgrading their website and IP system so that NIPO systems are Madrid compatible. A complete restructuring program of NIPO is underway to recruit senior level officials and Intellectual Property officers very soon," Minister Bathiudeen asserted.

"To get skilled people to NIPO with better pay too I submitted a Cabinet Paper. We will also allocate a permanent office facility for our NIPO. At the beginning of this week my ministry co-organised another important G15 country member meeting of the first Group of Fifteen country session to be held in Sri Lanka. The theme of the session was 'Traditional Knowledge and Cultural Expressions'. Today we are launching the Sri Lankan session of this series.

"I am especially thankful to the WIPO for the excellent support given to Sri Lanka to develop the Intellectual Property sector and to Ambassador Ravintha Aryasinha, our Permanent Representative to the UN in Geneva, for tirelessly working during the last few years to connect the IP stakeholders in Sri Lanka with WIPO. I strongly urge a collaborative approach to produce the National Traditional Knowledge IP Policy that we will produce after these workshops. We should not bring in our own plans since this is not just a domestic effort, but a global effort as well."

Aryasinha said that his office has been moving many projects for Sri Lanka in Geneva. "This is a key non-secular project that we worked on for Sri Lanka in Geneva, for the sheer joy of it," he stressed. "I assure you that we will leverage WIPO in Geneva to the maximum and get support for our country, for tangible results."

With the participation of Assistant Director General of World Intellectual Property Organisation's (WIPO) Minelik Getahun and G15 country grouping, the first-ever international level Traditional Knowledge and Traditional Cultural Expressions (TK&TCE) experience sharing session in Sri Lanka was unveiled on 24 April in Colombo. This was a follow-up to the G15's 2016 Algeria session on Protection of Intellectual Property (IP) rights of TK&TCE.

Another two-day seminar focused on Sri Lanka's TK&TCE, based on the outcomes of the 25 and 26 April seminar, was scheduled for 27 and 28 April at the BMICH. It was at the inauguration of this two-day session that Minister Bathiudeen announced the Rs. 100 million allocated for the Madrid accession. This second session will focus on formulating a TK&TCE policy draft for Sri Lanka.

Sri Lanka's Madrid Protocol accession will open doors for the country's brands to register their trademarks in one filing across multiple jurisdictions, activated at the same time, and affording strong IP protection for Lankan brands at the global level for the first time.