Setting a precedent in the field of photovoltaic technology, the faculty of science in the University of Kelaniya successfully conducted the third instalment of its workshop series on photovoltaics. The event hosted by the Department of Chemistry and Physics, Research Service Centre of the Faculty of Science at the University of Kelaniya and the National Science Foundation of Sri Lanka saw a stellar turnout of academics, students and an expert panel of scientists. JLanka Technologies partnered the event as the co-sponsor together with Sivananthan Laboratories, USA. JLanka Technologies has continued to partner landmark events relevant to the broader domain of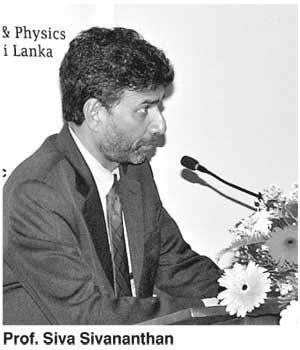 energy and technology, in a bid to raise awareness and direct attention towards breakthrough discoveries and personalities in the field.

The event spanned over two days on 18 and 19 January. The broader theme of the workshop dealt with renewable energy, climate change and innovations in the field of photovoltaic technology. The esteemed panel comprised of eminent personalities such as Prof. Siva Sivananthan, Dr. Tim Coutts, Dr. Tim Gessert, Dr. Ramesh Dhere, Dr. Mowafak Al-Jassim and John Miller.

Incidentally, Prof. Sivananthan is a Sri Lankan born scientist, currently researching in the USA whose contributions to the field of science earned him recognition from the White House. Prof. Sivananthan made significant findings in the area of night vision which is presently employed by the US Army in their operations. For this and many other achievements, he was awarded a laurel of recognition from the White House.

Speaking on the importance of establishing PV technology as a commercially available, fully accessible solution, Prof. Sivananthan spoke of establishing Sri Lanka as a solar energy hub in the Asian region. His interest and view was echoed by many other panellists who remarked on the importance of renewable energy as a sustainable alternative for the future.

Further to the sessions that were hosted, a live installation of PV solar systems was also carried out at the University. Attendees were given the opportunity to understand the products and solutions available in the market for solar energy consumption.

"We are really happy with how the event turned out. We always try to align ourselves with thought leadership in the field and this has been a great opportunity for us. We have always advocated the value of renewable energy in the battle against climate change and global warming, and it's great to surround ourselves with likeminded people. We look forward to more events like this one and of course we are always prepared to extend our support and expertise," commented JLanka Technologies Marketing Manager Srinath Dolage.