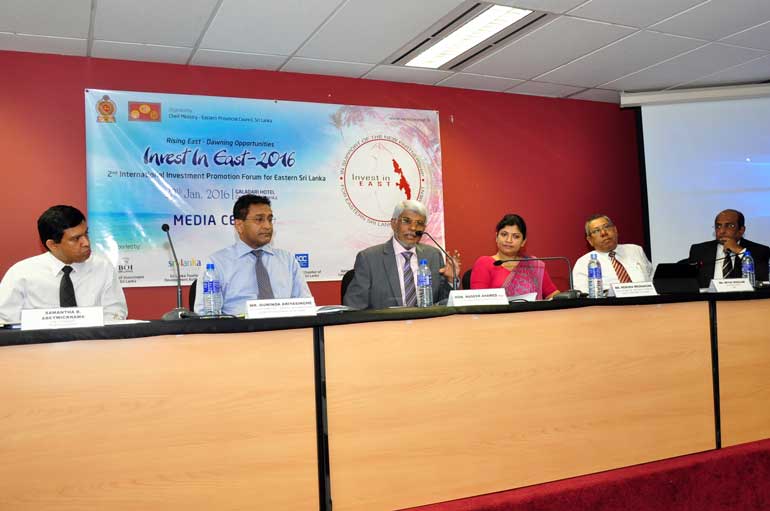 Eastern Province Chief Minister Nazeer Ahamad (centre) briefs the media. Others from left are Invest in East 2016 Director General Samantha B. Abeywickrama, BOI Executive Project Implementation Director Duminda Ariyasinghe, Executive Director Investment Promotion Renuka Weerakone and KPMG Managing Partner Riyaz Mihular - Pic by Lasantha Kumara
By Shehana Dain

The second instalment of the international investor forum for the Eastern Province, 'Invest in East' will be held on 28 January next year at the Galadari Hotel.

The theme of the forum is 'Creating Conducive Environment for Investments and Employment Creation'. The two-day forum will constitute of technical sessions on the first day and B2B meetings with investors the next day.

An upbeat Eastern Province Chief Minister Naseer Ahamed said: "Last year we had 280 investors and 100 of them came to visit the area and 12 of them are on the ground and investing. This was when the political climate was not very supportive but I'm confident with the Government and BOI rooting for us we can attract around 500 local and foreign investors to the forum this time.

Speaking at the event KPMG Managing Partner Riyaz Mihular noted: "KPMG will support the investors who will come into the country and advice them on the tax concessions that are available. A lot of investors who come to the country have very little knowledge or get easily confused with our rules and regulations. The conversion of Interest into Investment is the most difficult part. Lot of people are interested but they don't invest. We are hoping to make their decision making process easier to them."

"The Middle East has pushed for food security immensely in the past few years. We have acres of agriculture land in the Eastern province; if we can attract good investors, there is huge potential for corporate agriculture," he added.

The objective of the event is to present the investment opportunities in the Eastern region, aiming to improve the investment climate and to encourage the inflow of domestic and foreign investments into the economy of the region. The formation and promotion of brand 'Invest in East' globally, particularly to the Sri Lankan Diaspora is also a key objective.

The discussions at the forum are aimed at attracting FDIs in industrial, agricultural, fisheries, livestock, tourism and infrastructure sectors. The forum will also present capital investment proposals to foreign partners creating a forum of debate among the representatives of the Government.

The key topics that would be in focus for discussion at the forum are; infrastructure for tourism, agriculture and other sectors, ecotourism, community based tourism and agriculture, cluster development and joint ventures in tourism, human skills in tourism development, agriculture sector investment opportunities, livestock sector investment opportunities, fisheries sector investment opportunities, industrial sector investment opportunities, technology transfer for industrialisation in the East and market development for products and services of Eastern Sri Lanka.